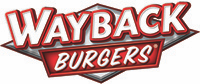 We have already awarded Wayback Burgers franchise agreements in more than 35 countries and are actively negotiating with master franchisees in the UK, Germany, and South Africa. - Bill Chemero
Cheshire, CT (PRWEB) October 17, 2017
Wayback Burgers, America's favorite hometown burger joint and one of the nation's fastest growing burger franchises, kept the franchise development momentum rolling in Q3 2017 after a record-setting start (detailed in this Franchise Times story) in the first six months of 2017. In fact, from July – September, Wayback Burgers opened seven restaurants, awarded five new locations, and signed three leases.
Recently ranked as a top 10 best fast casual restaurant franchise by franchiserankings.com, Wayback Burgers has grown to 136 locations worldwide. The rapidly growing franchise chain has active locations in 28 states throughout the United States and five countries around the globe, including Argentina, Brunei, Saudi Arabia, a recently opened restaurant in Kuala Lumpur, Malaysia, and a new restaurant opening in Casablanca, Morocco in the beginning of November. Plus, the company has just completed a deal with a master franchisee in the Netherlands to open restaurants in that country.
Wayback Burgers President, John Eucalitto, is excited about the burger brand's growth and credits the company's constant innovation and systemwide consistency.
"Few industries are as competitive as the burger business, so it's difficult to earn, and even harder to maintain, a great reputation and true staying power," said Eucalitto. "The brands that endure serve great tasting food and commit to constant innovation, like we have at Wayback Burgers. Since January, we have already rolled out a brand new in-store design, developed a great new Philly cheesesteak, began hand-breading our chicken breast and tenders, introduced a revolutionary mobile food cart in New York City, and sold multiple new franchise agreements while continuing to serve up the best food in the business…and we're just getting started."
Wayback Burgers' growth and success hasn't gone unnoticed. Franchise Times, franchising's most respected trade magazine, recently named Wayback Burgers one of its Top 200+ franchises. With more than $63 million in global sales and 136 total units, Wayback Burgers earned the #373 ranking in the annual list featuring franchising's top brands.
Here are the details from Wayback Burgers' Q3 2017 franchise development report:

(7) New restaurant openings in Roseville, CA, Bryan, TX, Blufton, SC, Concord, CA, Huntsville, AL, Raleigh, NC and Kuala Lumpur, Malaysia
(5) New franchise sales in Irving, TX, Sacramento, CA, Chowchilla, CA, Queens, NY and Houston, TX
(3) New leases signed in Woodbridge, VA, Austin, TX, and Little Rock, AK
Internationally, Wayback Burgers has its sights set on even more growth. With established restaurants already open in Argentina, Brunei, and Saudi Arabia, and a brand-new store in Kuala Lumpur, Wayback Burgers will also open locations in Khartoum, Sudan, Casablanca, Morocco, and Kuwait City, Kuwait by end of year. Additionally, the company believes the new master franchisee in the Netherlands will help Wayback Burgers establish an excellent reputation in Europe that will fuel development efforts in the UK, Germany, and other European countries.
Wayback Burgers Executive Vice President, Bill Chemero, says this international success is just the beginning for one of the nation's fastest growing burger franchise.
"We have already awarded Wayback Burgers franchise agreements in more than 35 countries and are actively negotiating with master franchisees in the UK, Germany, and South Africa," said Chemero. "In each country, we develop relationships with experienced food executives interested in becoming master franchisees and area developers responsible for introducing and growing the Wayback Burgers brand. These master franchisees and area developers open and run a successful Wayback Burgers restaurant before selling the concept to other independent owners. This system works beautifully because American brands sell incredibly well in other countries when a respected and proven native businessman is leading the charge."
For more information about Wayback Burgers, please visit https://waybackburgers.com/.
For more information about Wayback Burgers franchise opportunities, please visit https://franchise.waybackburgers.com/.
About Wayback Burgers
Founded in 1991 in Newark, DE, Wayback Burgers is a Connecticut-based fast-casual franchise with a reputation for cooked to order burgers and thick, hand-dipped milkshakes, served in an environment that hearkens back to a simpler place and time—when customer service meant something and everyone felt the warmth of the community.
Wayback Burgers currently operates in 28 states with over 136 locations nationally and internationally in Argentina, Brunei, Saudi Arabia and Malaysia. Through its executed master franchise agreements, Wayback Burgers plans to open in 35 provinces/countries in the Middle East, Northern Africa, Argentina, Pakistan, Brunei, Bangladesh; Alberta, Ontario, Manitoba and Saskatchewan, Canada; and the Netherlands, with pending letters of intent sent out to South Africa and the UK.
For more information about Wayback Burgers, please go to https://waybackburgers.com/.
For franchising information about Wayback Burgers, please go to https://franchise.waybackburgers.com/.