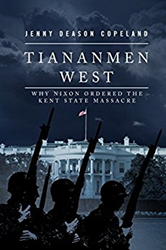 (PRWEB) October 13, 2017
Author Jenny Deason Copeland, known for her expertise regarding the Nixon administration, will be signing books at Leon & Lulu's "Authors and Books" event on October 22nd in Clawson, Michigan.
This will be Jenny's fourth appearance at the charity event. Forty percent of the proceeds go to the Oakland Literacy Council, a 503.1 charity. The works by Jenny are also available in screenplays as she is taking all her movie ideas and transforming those stories into books.
Jenny's appearance will be made on behalf of publishing company, Crazy Red Head Publishing, of which she is a co-founder. Her devotion to assisting talented writers find a path to publishing plays a large part in her decision to return for yet another signing at Leon & Lulu's.
"I'm more than happy to meet the dozens of interested readers that plan to attend this event, and in turn promote the importance of literacy and non-fiction works," Copeland states.
Copeland's universally acclaimed, non-fiction work, TIANANMEN WEST, encompasses decades of research by the author in hopes of replacing conspiracy theories with facts. The FoIA (Freedom of Information Act) requests reveal some interesting new perspectives of not only the Kent State Massacre, but how the mind of Richard Nixon could justify such an event. The book ends with a call to action that, if followed, might prevent the U.S. from ever allowing an unfit President to obtain the office again.
++++++++++++++++++++++++++++++++++++++++++++++++++++++++++++++++++++++++++++++++++++++++++++++++++
Read more about the crimes committed by Nixon in the book Tiananmen West: Why Nixon Ordered the Kent State Massacre by Jenny Deason Copeland. Available on Amazon in both e-book and paperback formats.
The book "Tiananmen West" can also be purchased from the Crazy Red Head Publishing website, which guarantees a signed by author copy. Crazy Red Head Publishing's other works are sold and seen here: http://www.crazyredheadpublishing.com/