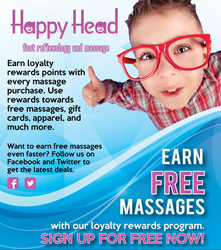 Customers can earn free massages and great discounts with the new loyalty rewards program.
San Diego, CA (PRWEB) October 13, 2017
For years, Happy Head Massage has been looking for a way to offer a rewards program that is simple to use and convenient. While they've tried different programs in the past, many programs have fallen short of their needs one way or another. They wanted the loyalty program to be easy to implement and easier still for their customers to redeem their rewards.
Here's how the FiveStars program works and it couldn't be simpler. At every Happy Head location there is tablet computer stationed at the front desk. All that is required is the customer's mobile phone number to get things started. They enter their phone number into the tablet and then they are well on their way to earn discounts and free massages in no time. They will earn one point for every dollar spent.
Customers can view their accumulated points online at http://www.HappyHeadMassage.com, on the FiveStars app, on their smartphone, or at the tablet at any Happy Head. They will always know how many points they have, and how far they have to go to claim the rewards that they really want. Rewards can be redeemed as follows:

100 Points = $5 Off
250 Points = $20 Off
500 Points = $50 Off
There are many more benefits to the program besides loyalty rewards. After a customer has made a purchase, FiveStars will reach out to collect some more information from them, like their name, birthday, and email address. With this information, customers will get exclusive special offers that will only be offered to loyalty rewards program participants.
Happy Head Massage continues to find new ways to improve their customer experience. Whether it's improving on their loyalty program or improving the massage services that they offer, their main focus is to ensure that their customers are happy. The Happy Head currently has 8 locations in Southern California and have plans for further expansion.