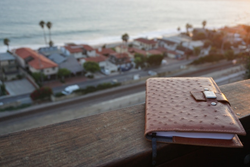 We want to thank our backers for helping us achieve this milestone, just as we hope it helps them foster a more balanced attitude and a better quality of life every day when they start using it.
Salt Lake City, Utah (PRWEB) October 20, 2017
Crowdfunders from the U.S. and Canada, along with support from backers from the United Kingdom and Australia, have driven presales of the Mindful Notebook past the $30,000-mark on Kickstarter – triple the initial campaign goal.
Created by the company Corso in conjunction with the team at mindful.org, the unique three-feature notebook is designed to help people achieve a better work/life balance each day by fostering internal awareness.
"We're excited to see the response to The Mindful Notebook is growing every day and want to thank our backers for helping us achieve this milestone, just as we hope it helps them foster a more balanced attitude and a better quality of life every day when they start using it," said Corso Co-founder Brody Van Brocklin. "We all get super busy handling social media and all the distractions that come in our fast-paced world these days, which is why we created The Mindful Notebook – to help us all slow down a bit and start each day in a more thoughtful place."
The Mindful Notebook includes three primary elements:

A daily thought and/or quote at the top of each page – designed to help users kickstart the day and get them thinking
A creative place – the traditional notebook section where users jot down all the tasks and plan each day's activities
A daily gratitude section – the "most important section," that gives each user a way to reconnect to what's personally significant to them and offers an opportunity to be grateful and reflect on those positive moments that happen each day
Corso Co-founder Ryan Treft says the Mindful Notebook is already helping him become more grounded and helping him disconnect from the tech world for contemplative time, while enabling him to continue getting his important work tasks completed each day.
"It really helps me stay organized and helps me meet my daily goals, whether we're talking about business, relationships or my family," Treft said.
Mindful.org Associate Publisher Dan Scott says Corso's concept was a "perfect match" for his company.
"Their whole concept works well with our mission and what we're trying to do, which is to remember to ground ourselves a bit amid all these visual experiences," Scott said. "It's easy to be sucked into the speed of what's in front of our face, so the Mindful Notebook gives us a way to slow down a bit and be thoughtful in our approach to each day."
In addition to a single notebook, priced at $28, they are also offering a Kickstarter Reward level that includes The Mindful Notebook along with an Ostrich Leather Notebook Cover. Those who pre-purchase the special offer can select one of three cover colors when the crowdfunding campaign is completed.
"We selected this material because it's arguably the highest-quality leather on the planet and used in many high-end products, and because it's also an eco-minded leather since ostriches have one of the lowest carbon footprints on the planet," Van Brocklin said.
The Mindful Notebook is available at discounted early-bird pricing during crowdfunding. For more information and to purchase the notebook, visit The Mindful Notebook Campaign Page on Kickstarter.
About Corso
Corso produces premium goods for busy professionals, with all products created in collaboration with top designers, professional organizations and talented craftsmen. As busy professionals themselves, the Corso team produces premium products that hopefully make a person's life a little easier. Corso partnered with Mindful.org to introduce the Mindful Notebook in the fall of 2017 and plans to develop several themed notebooks in the future as it collaborates with other organizations that share in Corso's mission and philosophy. For more information, visit http://www.corso.com.