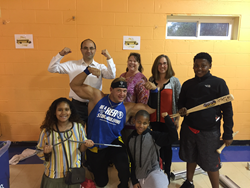 We are a Bully Free School believing in ourselves and being Dream Makers" -Zach Scott (8th grade student)
Cincinnati, Ohio (PRWEB) October 17, 2017
Thank you Omegaman for visiting our school and working with our students K-8 grade to learn and practice how to have a Bully Free SCHOOL. Omegaman & Friends is a very unique school assembly presentation. Their message delivered the Anti-Bullying/Character Development topics through a superhero theme. They challenged our students to live a life as a Dream-Maker (making good choices) & not be a Dream-Breaker (making bad choices).
We truly enjoyed watching our students, teachers and administration participating with you in learning more about being a Dream Maker. The message of how to be a bully free school by practicing making positive choices was extremely valuable. Omegaman did some amazing feats during his presentation, such as: bending steel with his teeth, lifting student above his head using a steel rod, breaking a real baseball bat over his leg (multiple times) and best of all giving Mr. Adams(School Principal) and Mr. Smith( Music Teacher) piggy-back rides.
Check out our pictures, videos and testimonials on our Facebook page @ HSA Cincinnati.
We are a Dream Makers!!