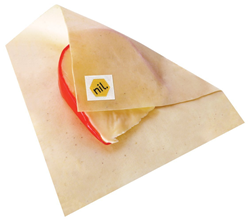 I love supporting companies with environmentally friendly products and ethical business practices
Houston, Texas (PRWEB) October 13, 2017
The Kiwi Importer commenced distribution of organic and biodegradable food wraps and fire starters made ethically in New Zealand by Nil.
The products include the Organic Beeswax Reusable Food Wraps and the Organic Fire Starters which are made in most part by mothers in need of flexible work. These products contain no harmful chemicals or vapour as they are completely natural, according to Nil.
"I love supporting companies with environmentally friendly products and ethical business practices," says Sarah Ayala, CEO of The Kiwi Importer from her office and warehouse located in the outskirts of Houston. "And Nil fits just that description."
Nil products are ethically handmade and create Nil Waste. Nils are produced by the traditional 'outwork model', whereby mothers (often in need of work) make the Nil Reusable Food Wraps from home. The 'outwork model' enables them to continue spending time to nourish their families, contribute to the family finances and helps to lift self-esteem. All the 'off cuts' from the wraps are made into Organic Fire Starters.
NEW PRODUCTS
Nothing Added. Nothing Taken. Nil Waste. That's the way Nil describes its products.
Nothing added means no unnatural additives like preservatives or chemicals. Nothing taken means the ingredients are generally bi-products. Nil waste means once finished the Nils add nothing more to the rubbish tip as they are bio-degradable, the company reports.
Initial Nil products to be distributed by Kiwi Importer include the following:
Organic Beeswax Food Wraps: These are a natural alternative to plastic and are the only organic beeswax wraps on the market. The wraps – produced with organic New Zealand beeswax, unbleached cotton, manuka oil, propolis and jojoba oil – are 100 per cent food safe, naturally antibacterial, antifungal and hygienic.
Organic Fire Starters: These have no harmful chemicals or vapour as they are completely natural. They only burn unbleached cotton, organic beeswax and other ingredients from a company secret trade recipe.
Nil is part of a Wellington, New Zealand-based social enterprise that aims to create a community of socially and environmentally conscious consumers.
More about Nil's products can be found online at http://www.kiwiimporter.com
ABOUT THE KIWI IMPORTER
The Kiwi Importer provides unique and natural products from New Zealand and other countries to healthy and socially conscious consumers in the USA. Based in Houston, Texas, the company provides products from Manuka honey to Habanero hot sauce to Extra Virgin Olive Oil. Visit our blog and website at http://www.kiwiimporter.com
Follow us on social media: Twitter: @kiwi_importer ... Instagram: @kiwiimporter ... Facebook: kiwi.importer ... LinkedIn
***