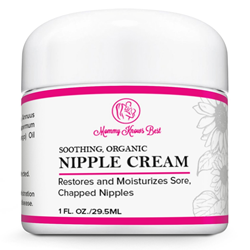 "We pride ourselves in being able to help mothers along every aspect of their breastfeeding journeys."
Woodstock, Illinois (PRWEB) October 26, 2017
Mommy Knows Best, the leader in lactation products, continues with their tradition of helping new moms with the launch of their newest product "Soothing Organic Nipple Cream." This top of the line product solves the painful issue of chapped nipples, which is something that every mother faces during her breastfeeding journey.
Breastfeeding for most mothers brings up numerous challenges, including cracked and sore nipples. Painful problems like this can even discourage a new mom from continuing to breastfeed. This paved the way for Mommy Knows Best to introduce this ultimate nipple cream that will take care of a breastfeeding woman's most sensitive needs. They've used only the finest, hypoallergenic ingredients, which include Olive Oil, Aloe Extract, Sunflower Oil, Beeswax, Cocoa butter, Shea butter, Vitamin E and Mango Oil. This cream immediately helps keep nipples feeling soft, supple, and healthy. Realizing that anything applied to the nipple will be ingested by the baby, they have made sure that the nipple cream is absolutely safe for the baby.
"We pride ourselves in being able to help mothers along every aspect of their breastfeeding journeys," says Jennifer Tierney, Co-Founder of Mommy Knows Best. She maintains that the inspiration to create new products comes from the loyal following of moms who not only swear by the company's high quality products, but also provide feedback about the lack of good products in the market. "Our Soothing Nipple Cream offers relief to a breastfeeding momma in need" Tierney explains and goes on to say "our primary goal will always be to provide moms with what they need to make their breastfeeding experience as easy and comfortable as possible."
The company has only completed three years in business, but has already received thousands of positive reviews from their customers and continues to stand by its commitment of a 30 day money back guarantee with no questions asked. They believe that a company that refuses to return someone's money will never stand by their product.
The Mommy Knows Best line has an extensive supply of lactation support products for new moms, along with hair and skin care. Their website http://www.mommyknowsbest.com offers more than just new mom supplies, in the form of informational blogs and advice from a lactation consultant. The blogs discuss a variety of topics for breastfeeding right from the issues to the remedies and the lactation consultant is available to answer questions for those who have inquiries regarding the various lactation support products.