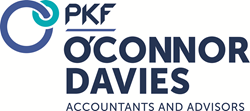 New York, NY (PRWEB) October 16, 2017
PKF O'Connor Davies, LLP, the nation's 28th largest accounting and advisory firm, announced today that the Firm's Managing Partner Kevin Keane has been named to Accounting Today's prestigious Managing Partner Elite Class for 2017. The distinction, given to 10 managing partners each year, recognizes individuals who have demonstrated outstanding leadership qualities and show an ability to drive innovation and firm growth. Keane took over as managing partner in 1998, overseeing the firm's growth from 50 employees and two offices to more than 750 employees in nine offices across four states.
"I'm honored and humbled to receive this distinction along with these other industry leaders," Keane said. "This award really belongs to the incredible team at PKF O'Connor Davies. I've spent my career focused on growing the Firm and creating an outstanding culture here, and I couldn't be prouder of the work we do for our clients day in and day out."
The Accounting Today brief describing the Managing Partner Elite Class notes the strategic plan for the Firm is a formalization of Keane's vision that he began executing when he became Managing Partner. In addition, it highlights his commitment to a strong culture that has driven the development of dedicated leaders and partners. It also describes Keane's role in the Firm being named as the lead North American firm in the PKF global network.
In his 30-plus year career, Keane has specialized in providing accounting and business advisory services to family-owned companies in the manufacturing, distribution, real estate and construction industries. He is also an active participant on boards and finance committees for many area non-profit organizations and clubs, including the John A. Coleman School of the Elizabeth Seton Pediatric Center, Lititz Watch Technicum and the Irish Arts Center. He is a director and founder of The Westchester Bank and is the Chairman of the Board of Trustees for his alma mater, Archbishop Stepinac High School.
About PKF O'Connor Davies, LLP
PKF O'Connor Davies, LLP is a full service Certified Public Accounting and advisory firm with a long history of serving clients both domestically and internationally. With roots tracing to 1891, nine offices in New York, New Jersey, Connecticut and Maryland, and more than 700 professionals, led by over 100 partners, the Firm provides a complete range of accounting, auditing, tax and management advisory services.
PKF O'Connor Davies is ranked number 28 in Accounting Today's 2017 "Top 100 Firms" list and the Firm is also recognized as a "Leader in Audit and Accounting," a "Pacesetter in Growth" and one of the "Top Firms in the Mid-Atlantic." PKF O'Connor Davies is ranked number 28 in INSIDE Public Accounting's 2017 "Top 100 Firms" list and recognized as one of the "Top Ten Fastest-Growing Firms." In 2016, PKF O'Connor Davies was named one of Vault's Accounting 50, a ranking of the 50 best accounting employers to work for in North America, and ranked among the top 50 most prestigious accounting firms in America in a complementary Vault survey. The Firm is the 11th largest accounting firm in the New York Metropolitan area, according to Crain's New York Business, and was named the 10th top accounting firm in New Jersey according to NJBiz's 2016 rankings.
By consistently delivering proactive, thorough and efficient service, PKF O'Connor Davies has built long-lasting, valuable relationships with its clients. Partners are intimately involved in the day-to-day management of engagements, ensuring a high degree of client service and cost effectiveness. The Firm's seasoned professional staff members employ a team approach to all engagements to provide clients with the utmost quality and timely services aimed at helping them succeed. Continuity of staffing and attention to detail in all client engagements make the Firm stand out among its competitors.
PKF O'Connor Davies is the lead North American representative of the international association of PKF member firms. PKF International is a network of legally independent member firms providing accounting and business advisory services in 440 locations in 150 countries around the world. With its tradition, experience and focus on the future, PKF O'Connor Davies is ready to help clients meet today's ever-changing economic conditions and manage the growing complexities of the regulatory environment. For more information, visit http://www.PKFOD.com.