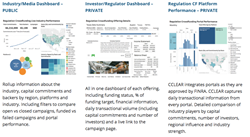 "CCLEAR is a revolutionary data analysis service that provides first of its kind transparency into what is happening in the private capital markets," said Sherwood Neiss, Principal at Crowdfund Capital Advisors
MIAMI (PRWEB) October 17, 2017
Today at a Private Capital Markets forum, Crowdfund Capital Advisors (CCA) announced immediate availability of CCLEAR™, (http://www.CrowdfundCapitalAdvisors.com/data) to enable entrepreneurs, investors, policy-makers, educators, industry stakeholders and government leaders to immediately and transparently analyze all Regulation Crowdfunding offering data. The CCLEAR service can also be easily customized and implemented by securities regulators globally to monitor their private capital market activities.
"The CCLEAR solution is a revolutionary data analysis service that provides unique insights to investors and issuers. Until Title III of the JOBS Act went into effect, there had been no transparency into what is happening in the private capital markets," said Sherwood Neiss, Principal at Crowdfund Capital Advisors. "Now with Regulation Crowdfunding there is a digital footprint of all private companies raising money online. With this unique data in the private capital markets, investors and regulators can immediately understand where capital is flowing by region, what industries benefit, where jobs are being created, what kind of economic impact is being delivered by city, state and region, where investors are from, where they are investing, the financial health of reporting companies, average valuations, average check size by portal, average raise by industry, average length of fundraising and much more."
CCLEAR™ (standing for Collect, Clean, Aggregate and Report) is the first comprehensive securities-based crowdfunding database to collect, cleanse, aggregate and report on the underlying companies, portals and industries. CCLEAR uses a standards-based method and data structure (CCA Data Standards) for collecting over 153 static and transactional data points from Regulation Crowdfunding offerings. Crowdfunding websites can plug into CCLEAR via an API. Data is collected, cleansed and normalized then stored in cloud based servers and indexed for rapid response. The CCA Data Standards provides a taxonomy for use by public and private sectors and is promoted through marketplace collaboration.
There are 4 Dashboards available in CCLEAR. The Industry/Media Dashboard is free to registered users and visually displays summary information about the industry. The Investor Dashboard is subscription based, contains all-in-one detail on each offering with a live link to the campaign page, as well as industry analysis. The Regulator/Government Dashboard is subscription based, provides detailed information on all offerings as well as summary information about the entire industry. And the Portal Dashboard is free to Crowdfunding Platforms that plug into the database and provides industry comparisons as well as averages, trends and analysis.
CCLEAR has been in private beta for the past 6 months," said Jason Best, Principal at Crowdfund Capital Advisors "during this time we've had a chance to work closely with our network of media, government leaders, platforms and investors to deliver them more than just data. CCLEAR delivers actionable information to benefit the decisions of all market participants. This type of data standardization tool will also accelerate the growth of the industry."
Ellenoff Grossman and Schole, a law firm that advises issuers and portals, recently committed to deploying CCLEAR to all lawyers in its firm. "CCLEAR will further enable Ellenoff Grossman and Schole to speak to our clients about market evolution, where niche opportunities exist for portals and set expectations in data driven results way," said Doug Ellenoff, Partner. "It is truly revolutionary to be able to see what is happening in a market that has had no sunlight for the past 80 years."
Karen Kerrigan, President & CEO of the Small Business & Entrepreneurship Council said, "Access to capital is a perennial issue for America's Small Businesses, as well as startup entrepreneurs. Now that we have a new avenue for entrepreneurs and their enterprises to seek capital from their friends, family and followers we need industry data to educate those companies on what they can realistically raise based on region of the country and industry sector. CCLEAR answers these questions for entrepreneurs and small businesses. It is a great tool that will help them succeed!" 
CCLEAR Background
CCLEAR is a service created by successful entrepreneurs with Wall Street and Silicon Valley experience. Having raised millions of dollars in the private capital markets as well as crafting the Regulation Crowdfunding framework used in the JOBS Act, the team built a database and standard dataset that answers questions government regulators, policy makers, entrepreneurs and investors want to know about investing in private companies, raising capital online and spurring economic activity. CCLEAR is part of Crowdfund Capital Advisor's commitment to deliver the latest tools to promote market credibility and efficiency. CCLEAR is available for immediately access at http://www.crowdfundcapitaladvisors.com/data.
About CCA
Founded in 2012, Crowdfund Capital Advisors is the worldwide leader in Securities-based Crowdfunding Policy, Research, Analysis and Data Analytics. The company offers highly customized services designed to assist governments, multilateral organizations, regulators, entrepreneurs and investors in understanding how to promote economies via regulated online securities exchanges. Clients include the World Bank, Inter-American Development Bank, country governments and global financial institutions.