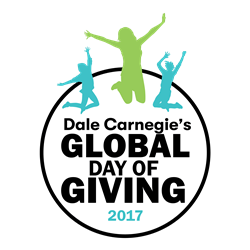 We feel this is especially important because these youth are our future business leaders - Nancy Covert, President, Dale Carnegie of Central and Northern Alabama
BIRMINGHAM, Ala. (PRWEB) October 14, 2017
To celebrate their Founders Day anniversary, Dale Carnegie Training is on a mission to introduce their flagship program to people who need it the most but might not have access to it through a worldwide initiative called the Global Day of Giving. Nancy Covert, President of Dale Carnegie of Central and Northern Alabama, was live on Talk of Alabama this week to talk about how her franchise is getting involved.
Joe Hart, CEO of Dale Carnegie & Associates, had the singular vision of helping youth. So to celebrate the 105th anniversary of Dale Carnegie training, franchises across the globe have chosen this one day, October 18th, our Founder's Day, to donate our time helping the young people in our communities receive training they might not otherwise have access to.
This year, Dale Carnegie of Central and Northern Alabama has chosen UAB and the Collett School of Business Freshmen Students. "We picked the Freshmen specifically because they are dealing with new stresses learning how to negotiate new freedoms while balancing studying, work, a social life and more. During the event, they'll specifically be given tools to help them deal with stress and worry.
The Global Day of Giving is taking place on October 18. Dale Carnegie of Central and Northern Alabama will be on the UAB campus delivering 3 Freshmen sessions and one open session for older students. "We feel this is especially important because these youth are our future business leaders," says Covert. "Preparing these young people by giving them a set of workplace learning principles to apply to their daily lives will set them up for success."
Dale Carnegie of Central and Northern Alabama works with youth organizations across Birmingham. If you're interested in training for young adults, please visit our website http://www.birmingham.dalecarnegie.com or call 205.444.5011. To watch the full interview, click here.