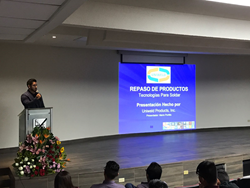 MONTERREY, Mexico (PRWEB) October 16, 2017
In Monterrey, Mexico, the EIAO institute educational training center was inaugurated on Wednesday 4 October 2017. Uniweld joining ventures with RNR Refrigeracion y Accesorios, both collaborated with a Preparatory Industrial School for Technicians, Escuela Industrial y Preparatoria Técnica "Alvaro Obregon," to speak with new up and coming technicians looking to advance their careers in the HVAC/R industry. Multiple well-known brands also participated in the event such as; Danfoss, Lucas Milhaupt, Tecumseh, Coel, etc. Additionally, the event was covered by Refrinoticias, one of the largest publications throughout Latin America in HVAC/R.
Mario Portillo, International Sales Executive for Latin America & Caribbean, conducted Uniweld's training session focusing heavily on the unique features and benefits of the HVAC/R tools which Uniweld manufactures at its Fort Lauderdale plant. Founded 87 years ago in 1930, Escuela Industrial y Preparatoria Tecnica "Alvaro Obregon," prides itself in forming technical, innovative and competitive graduates. Their graduates possess a wide meaning of life and in full conscience of the regional, national and world situation. Graduates must meet the school's standard of being capable of performing efficiently in the knowledge of society, compromised with technological development.
The "Repair School Seminar" provided extensive education on the complete line of Uniweld's new innovative brazing technologies available for HVAC/R systems, emphasizing safety and functionality. Centered on "Safety," the course consisted of technicality and how the products should be used once in the field. Afterwards, the attendees had the opportunity to interact with Uniweld's Mario Portillo for a more in depth Q & A session.
RNR Refrigeracion y Accesorios is one of the market leaders in Mexico for appliance parts, refrigeration, and air conditioning. In their role as leaders, they are paving the way in educating HVAC/R technicians in the region with the opening of their first EIAO training institute. More training is sure to follow in the region and Uniweld will be a key supporter of programs set out to educate technicians in the area.