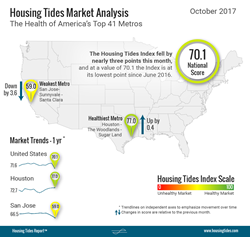 Driving the significant drop in the Index was the release of 2016 local household formation data from the U.S. Census Bureau's American Community Survey (ACS).
DENVER (PRWEB) October 16, 2017
This week marks the release of the October Housing Tides Report™, featuring an update to the Housing Tides Index™, an objective and sophisticated approach to quantifying and comparing the health of U.S. housing markets. This month's Index update reveals an improvement in housing market health as 30 of the 41 markets tracked by Housing Tides saw improved conditions.
Understanding the health of a housing market and its relationship to other top markets requires an aggregated, comprehensive view of the industry. The Housing Tides Index provides a succinct monthly measure of market health across the top 41 U.S. markets. Referencing 18 market indicators ranging from unemployment rates and housing permits to rental vacancy and mortgage foreclosure rates, the Tides Index helps users understand exposure at a deeper level than is currently possible.
National Housing Tides Index Summary – October 2017:

Driving the significant drop in the Index was the release of 2016 local household formation data from the U.S. Census Bureau's American Community Survey (ACS). The Index component that measures the ratio of housing permits to household formations worsened considerably, from a largely healthy ratio of 1.24 in 2015 to a less-ideal 1.83 in 2016. Specifically, while the U.S. saw 1.19M housing permits approved in 2016, the ACS data show that there were just 652k new households formed. Compare this to 2015, with 1.18M permits approved and 949k new households formed.
It's difficult to reconcile the above, which suggests that housing construction is outpacing household formation by a large margin, with the extreme shortage of homes for sale, which fell to 2.8 months of supply in August. It's possible that investors and second-home buyers continue to snap up homes, increasing the demand for housing beyond what the household formation data would suggest. The National Association of Realtors reported that just 70% of home sales in 2016 were to buyers who intended to use the property as a primary residence, which is consistent with this hypothesis. Still, our measure of housing permits to employment growth remains solidly in healthy territory, leaving it unclear why household formations slowed by so much in 2016.
Federal Housing Finance Agency data show that the effective mortgage interest rate for sales closed rose to 4.14% in August, up from a 2017 low of 4.02% in May, and remaining higher than the 2016 average of 3.86%. On September 18 the Federal Reserve announced a widely-anticipated plan to slowly reduce its balance sheet starting in October, as the central bank sees market conditions appropriate to slow reinvestment of the maturing mortgage-backed securities (MBS) and U.S. Treasury bonds that constitute the majority of holdings accumulated during periods of quantitative easing.
Some analysts speculate that this will have similar effects as a hike of the federal funds rate, as decreasing overall demand for MBS and Treasuries should decrease their prices and subsequently increase their yields, all else equal. Consequently, mortgage rates would increase as investors could obtain higher yields elsewhere, increasing the mortgage risk premium. To be sure, these effects are contingent on expectations of economic growth and inflation remaining unchanged, since prospects of lower growth or inflation would put downward pressure on interest rates. Any substantive increase in mortgage rates would squash refinance activity and suppress new mortgage originations, as monthly mortgage payments would increase at a time when housing affordability is already stretched in most major U.S. metros.
Single-family permit totals followed our expectations, rising in aggregate across the metro areas tracked by the Tides team, with 37,300 permits approved in August following 35,400 in July. Multi-family permit approvals increased sizably, up by nearly 35% in August, with 27,300 permits approved after just 20,300 in July. The six-month moving average increased to a rate of 25,100 multi-family permits per month.
Please reference the attached graph to view the Ten Healthiest U.S. Housing Markets - October, 2017.
Click here to view the complete Housing Tides Index of the top 41 U.S. markets.
Media Exclusive. Housing Tides Media Monthly Pulse.
Subscribe to our email service exclusively created for media which delivers an updated infographic depicting the latest monthly Housing Tides Index, the complete Index as it appears in the Housing Tides Report™, and a brief executive summary. All content can be shared in print and digital publications, with attribution to the Housing Tides Report.
Members of the media can subscribe to the Housing Tides Media Monthly Pulse here.
About Housing Tides
Housing Tides™ ("Tides") is the only monthly report that provides a comprehensive measure and aggregated understanding of the health of the U.S. housing and home building industry. Designed to take the guesswork out of the vast amount of forecasting information published about this sector, Tides is a sophisticated report that delivers city-specific, updated information when market conditions change. It is the only report that uses natural language processing and machine learning to correctly understand and synthesize large volumes of data, making it more comprehensive, balanced, and reliable than any other report of its kind. For further information, please visit housingtides.com and connect on Twitter, Facebook and LinkedIn.
Housing Tides is proudly partnered with IBM Watson®.