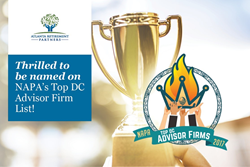 ATLANTA (PRWEB) October 16, 2017
The National Association of Plan Advisors (NAPA) has published its first-ever list of top defined contribution (DC) Advisor Firms and ARP is honored to have made the list! The NAPA Top DC Advisor Firms is a compilation of leading individual advisor firms, or teams, ranked solely by DC assets under advisement as reported by nominees.
"Since their inception, NAPA's various industry lists have been a valuable Who's Who of who matters in the world of retirement plans and retirement plan advisors," noted Nevin Adams, Chief Content Officer of the American Retirement Association and Editor-in-Chief of NAPA-Net, which compiled the listing. "As the nation's leading voice for retirement plan advisors, we are pleased to highlight the contributions these firms are making in helping building a more financially secure retirement for millions of Americans."
The inaugural list of NAPA's Top DC Advisor Firms, which will be published in the Winter issue of NAPA Net, the Magazine, is available online at http://www.napa-net.org/top-dc-advisor-firms/
About Atlanta Retirement Partners
Atlanta Retirement Partners serves more than fifty institutional retirement plans for various governmental, private and tax-exempt organizations. The firm's service philosophy is that "people come first." The success of an employee retirement program is measured by individual employee retirement outcomes.
In recent years, qualified plan administration has grown increasing complex, both for the plan sponsor and the participant. Atlanta Retirement Partners works with retirement plan sponsors to create and follow a process that seeks to both fulfill fiduciary responsibility and drive positive retirement outcomes. ARP and founder, David Griffin, have been recognized for working directly with plan participants as well as plan sponsors, seeking input from both to develop retirement programs that address the needs of both. These efforts have helped promote more comprehensive retirement programs, where employees better understand their retirement plan, their personal goals, and how today's decisions will impact their retirement. "That's why we take a very hands-on approach to employee education", Griffin notes.
Securities and Retirement Plan Consulting Program advisory services offered through LPL Financial, a Registered Investment Advisor, member FINRA/SIPC. Other advisory services offered through IFG Advisory, LLC, a registered investment advisor. Atlanta Retirement Partners and IFG Advisory, LLC, are separate entities from LPL Financial.
# # #
1-649846