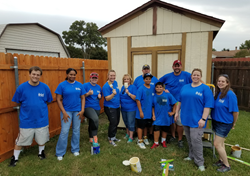 DALLAS, Texas (PRWEB) October 13, 2017
Resource One Credit Union helped a member of the Mesquite community by participating in the 13th Annual Addressing Mesquite Day. Addressing Mesquite Day is a community event hosted by the City of Mesquite that helps homeowners in the area with minor, exterior home repairs across the city.
Resource One Credit Union called on their employees and members to volunteer for Addressing Mesquite Day and help out one homeowner in the community. This year the homeowner had help with staining their fence, repainting their shed, and updating their mailbox.
Resource One employees and members include Jacob Polakoff, Anitra Wilson, Dustie Donihoo, Elizabeth Seelbach, Paula Manous, Mike Moore, Andrew Moore, Conner Moore, Mike Tambourine, Jennifer Grinder, Samantha Jones, and Michael Rodriguez (photographer).
About Resource One Credit Union
Resource One Credit Union was originally chartered as Sears Dallas Employees Federal Credit Union in 1936. Over time, the increased demand for more locations and additional products and services prompted the expansion of our product lines and field of membership. Today, Resource One proudly serves as a not-for-profit financial institution for the communities of Dallas and Northwest Harris counties. Resource One Credit Union has 11 convenient locations to serve our 60,000 and counting members. Visit Resource One Credit Union's homepage at http://www.r1cu.org.