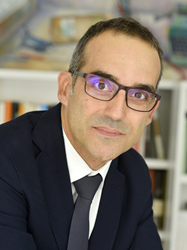 DunhamTrimmer Expands Its Presence in Key Global Bio Markets with Addition of Manel Cervera Comabella
LAKEWOOD RANCH, Fla (PRWEB) October 17, 2017
Manel is an experienced manager with prior roles at Sustainable Agro Solutions as Export Manager and most recently Biovert, where he served as Commercial and Marketing Director and Assistant Manager. During his time at Sustainable Agro Solutions, Manel was directly responsible for the international consolidation of the company, and in Biovert he continued this role, adding additional key responsibilities in marketing as well as a deeper business involvement in different management areas.
Based in Lleida, Spain, Manel will provide DunhamTrimmer with a presence near key European and North African markets. DunhamTrimmer looks forward to working with Manel and bringing his knowledge and understanding of Europe and biostimulants to serve even better our many European and global clients. "We are excited to have Manel join us and anticipate his experience in specialty fertilizers and biostimulants will provide us with new insights into these rapidly expanding markets," said Mark Trimmer, Managing Partner of DunhamTrimmer.
"Working for the biostimulant and specialty fertilizer's industry has showed me how important it is for key decision makers to have access to reliable, serious and accurate information sources. I am really looking forward to entering DunhamTrimmer, as from the very beginning they have been the ones setting the highest standards of providing actionable information for decision makers involved in the agricultural biological industries focus on these business," said Manel Cervera Comabella.
DunhamTrimmer is the premier business management, strategic marketing, market research and intelligence firm with a singular focus on the Global Biological Markets for agriculture (biocontrol/biopesticide, biostimulant and biofertilizer sectors). Since 2011 DunhamTrimmer has been serving their clients with detailed custom single client studies as well as a variety of reports on the companies and products in these sectors. The company counts among its diverse range of clients, global crop protection and global fertilizer companies, biopesticide, biostimulant & biofertilizer manufacturers, investment firms, and food producers/processors/marketing companies.