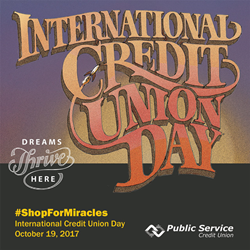 LONE TREE, Colo. (PRWEB) October 17, 2017
Public Service Credit Union (PSCU) will join credit unions around the world to celebrate International Credit Union Day®, an annual event honoring the impact and achievements of credit unions worldwide.
Credit unions are not-for-profit financial cooperatives that provide an alternative to for-profit financial institutions for over 235 million members in 109 countries worldwide. More than 68,000 credit unions exist globally, providing a plethora of financial services for their members while promoting positive economic and social change in their communities.
DREAMS THRIVE HERE
International Credit Union Day has been celebrated annually on the third Thursday of October since 1948. The event honors credit unions' proud history and promotes awareness and support for credit unions and financial cooperatives. This year's theme, "Dreams Thrive Here," celebrates how credit unions, like Public Service, are saving people money and helping them achieve their biggest dreams in life.
International Credit Union Day is recognized by the World Council of Credit Unions, the global trade and development agency for credit unions, along with other financial cooperatives, and numerous credit union associations around the world.
SHOP FOR MIRACLES ON INTERNATIONAL CREDIT UNION DAY®, OCTOBER 19, 2017
Shop for Miracles is a one-day, Credit Unions for Kids fundraiser to support local Children's Miracle Network Hospitals. In honor of this special day, Public Service Credit Union will donate $.25 for every purchase made on Thursday, October 19, 2017, using a PSCU Debit or Credit Card. The Shop for Miracles fundraiser enables PSCU to provide support in the communities it serves with all proceeds going to the Children's Miracle Network for the benefit of Children's Hospital Colorado. For more about PSCU's Shop for Miracles fundraiser, visit pscu.org/shop-for-miracles.
About Public Service Credit Union (http://pscu.org)
Public Service Credit Union (PSCU) has been safe, secure, and insured for the past 79 years. Today, PSCU holds assets in excess of $2.3 billion and has more than 224,000 members. PSCU provides a full array of financial products and services, including savings, checking, loans, mortgages, and online and mobile banking options. Members can access their accounts and conduct transactions at PSCU's 28 branches, and at over 200 shared branch locations throughout Colorado. In addition, through the credit union's partnership with the CO-OP network, members have surcharge-free access to more than 30,000 ATMs across the country.
Contact Information
Media Contact: Joe Greene, VP, Marketing
Company Name: Public Service Credit Union
Email Address: joeg(at)pscu(dot)org
###