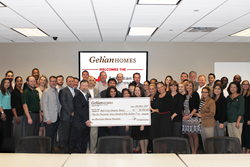 As far as the impact from Hurricane Harvey, all 20 of our Houston communities are open and actively selling. While the market has recovered, we know many in Houston are still in need of assistance and that is one of the reasons for today's donation
Dallas, TX (PRWEB) October 16, 2017
In the wake of Hurricane Harvey, Gehan Homes today donated $56,750 to the American Red Cross, toward disaster relief.
The catastrophic hurricane made landfall on August 25, dropping more than 50 inches of rain. There are still approximately 1,000 people in shelters, while thousands more are cleaning out their damaged homes.
Fortunately for the Houston economy, the predictions about a slow recovery for the housing market proved to be untrue. According to the Houston Association of Realtors, during September, single-family home sales in the Houston market rose by 4.2 percent, year-over-year, offering a dramatic turnaround from a nearly 24 percent plunge in August. Year-to-date, home sales remain 2.3 percent ahead of the 2016 volume, despite the hurricane's disruptive impact.
While efforts are far from over, the rebound speaks volumes about the resiliency of Houstonians and the Houston housing market.
Gehan Homes' donation was a result of a partnership whereby the builder of new homes in Texas and Arizona committed to donate $250 for every home sold during the month of September to the American Red Cross.
"Our hearts go out to those across Texas who were impacted by this storm. Our first reaction was to ensure our team members were safe and swiftly respond to our homeowners and those who live in the neighborhoods in which we serve. We have been inspired by their character and resilience," said John Winniford, Chief Executive Officer, Gehan Homes. "As far as the impact from Hurricane Harvey, all 20 of our Houston communities are open and actively selling. While the market has recovered, we know many in Houston are still in need of assistance and that is one of the reasons for today's donation."
The organization is still actively assisting in Houston, while providing first response and support for other ongoing disasters. "The American Red Cross is continuing one of its largest hurricane relief effort in Texas while also supporting relief efforts in response to other hurricanes, wildfires and the shooting in Las Vegas," said Keith Rhodes, CEO, American Red Cross North Texas Region. "Our work isn't possible without dedicated volunteers and generous supporters like Gehan Homes. Thank you to Gehan Homes for their continued support of the mission of the Red Cross in North Texas and beyond."
About Gehan Homes
Gehan Homes, headquartered in Dallas, Texas, has been building beautiful homes at an exceptional value for over 25 years. Known for their award-winning designs, quality craftsmanship, smarter floor plans and competitive pricing, Gehan Homes is the 12th largest private homebuilder and the 30th largest homebuilder in the US. The builder of new homes in Texas and Arizona launched Gray Point Homes in 2017. Focusing on value, the brand brings the dream of homeownership to more people than ever before. Gehan Homes has offices in Dallas, Houston, Austin, San Antonio, Texas and Scottsdale, Arizona. For more information, please visit gehanhomes.com
About the American Red Cross:
The American Red Cross shelters, feeds and provides emotional support to victims of disasters; supplies about 40 percent of the nation's blood; teaches skills that save lives; provides international humanitarian aid; and supports military members and their families. The Red Cross is a not-for-profit organization that depends on volunteers and the generosity of the American public to perform its mission. For more information, please visit redcross.org.
Gehan Homes Contact:
Christina Lombardo
Gehan Homes
972.383.4308
clombardo(at)gehanhomes(dot)com