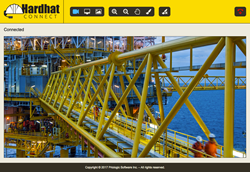 Most collaboration platforms are cloud based and don't work on worksites with little or no internet or behind highly secure firewalls. Hardhat Connect puts a server on the worksite so teams can collaborate locally, or connect to anyone behind the enterprise firewall if there is bandwidth.
BOSTON (PRWEB) October 17, 2017
Priologic Software is demonstrating Hardhat Connect at Enterprise Wearables Technology Summit on October 18-19.
Hardhat Connect brings real-time collaboration to teams working on mobile, remote and hazardous worksites with little or no internet connectivity or behind highly secure enterprise firewalls.
According to Priologic CEO Doug Pelton, "Most other collaboration platforms work as a cloud based service and need significant internet bandwidth between the worksite and their cloud. In larger enterprises, firewall policy often blocks access to the cloud. So cloud services just won't work in these cases.
Hardhat Connect puts a small local server in a truck or construction office so onsite workers can connect to each other via local wifi. If there is enough internet bandwidth to the outside world, remote experts can also connect with onsite workers provided they are securely behind the enterprise firewall."
Priologic is demonstrating their Hardhat Connect solution on a number of wearable devices including the Realwear HMT-1 head mounted tablet, Epson BT-300 Smart Glasses, and Vusix M300 Smart Glasses.
The solution also supports the ruggedized CAT S60, Android smartphones and tablets, iPhones and iPads, and Macintosh and Windows computers.
For worksites with potentially explosive environments. Hardhat Connect supports Intrinsically Safe or Explosion proof devices. Priologic is teaming up with Bartec PIXAVI to support their Orbit X and Gravity X Explosion Proof Wifi Cameras and their Impact X Intrinsically safe smartphone.
Osman Amith from Bartec US says, "We want to make sure workers on remote worksites can communicate safely. Our intrinsically safe and explosion proof devices work with the Hardhat Connect solution making them ideal for collaboration on oil and gas rigs and refineries, chemical plants and other potentially hazardous worksites."