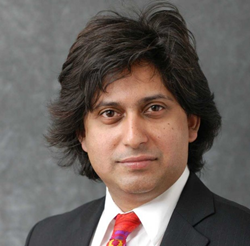 (PRWEB) October 20, 2017
On the surface, the notion of "creativity" sounds elusive. Coming up with a unique insight to produce an idea, song, poem or solution to a problem feels like a task meant for a blessed few. Yet, recent research on creativity indicates that our genes account for only 10 percent of being creative. The rest of it is learned, acquired, or dared. Acclaimed author and brain science innovator, Dr. Srini Pillay, believes there are clues about how you can navigate the journey to this hallowed ground too.
"Firstly, abandon the question, "How?" When you abandon this question, you stop trying to follow the way of others, and search instead for your own path to creativity." Srini notes.
"Second, make a commitment to non-normal. The norm is not that most people are not creative, but that they choose not to be. You don't have to be abnormal. i.e. You needn't go against the grain just for the sake of that. But if you search deep within, you will see that there are parts of you that don't fit the norm—unique aspects of your life experience that are just waiting to jumpstart your creativity that I call "non-normal." He adds. "Lastly, surrender to chaos. Most people try to organize their days as much as possible. But there is reason to believe that too much organization will rob you of your creativity. Rather, start by saving an hour of your day for non-planned activities."
Srini concludes, "Chaos awaits you in your inbox, home, and work. Rather than react to all of this by organizing your day immediately, let it be as it is, then prioritize the most important tasks, delay the others, and even ignore the tasks that have no relevance to your life. When you do, you will see that you've already started to be creative."
Dr. Srini Pillay is Assistant Professor of Psychiatry (Part-Time) at Harvard Medical School. He is known for combining "head and heart" (figuratively and literally) in an approach to personal development and goal mastery.
He has been an expert guest for CNN, Fox, NPR, The New York Times, Washington Post, Huffington Post, Harvard Business School, Cosmopolitan, Elle, Forbes, Fortune, Business Insider and many other news outlets in a variety of media and is known as a highly entertaining guest.
+++++++++++++++++++++++++++++++++++++++++++++++++++++++++++++++++++++++++++++++++++++++++++++++++++++
Dr. Srini Pillay shares more nifty ways to harness your brain's special capacities when in "downtime" mode in his new book, Tinker, Dabble, Doodle, Try: Unlock the Power of the Unfocused Mind (Balantine Books 2017).