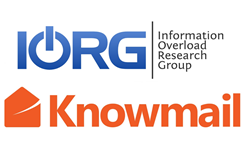 NEW YORK (PRWEB) October 16, 2017
The high cost of and battle against Information Overload will be the subject of Overloaded 2017, a complimentary webinar on Information Overload Day, Tuesday, October 17, sponsored by Knowmail and IORG.
Speakers from IBM, Knowmail, and several leading practitioners in the fields of productivity, information overload, and e-mail management will teach us how to cope with information overload in 2018.
Information Overload results in a paralyzing loss of productivity, diminished innovation, and poor work-life balance, and its impact continues to grow exponentially. Speakers will discuss key factors in driving solutions to the problem, including insights from a successful internal evangelism program at IBM.
The two-hour Information Overload Day event, which takes place entirely on the Web, is part of a workplace observance that calls attention to the high cost of Information Overload and how it impacts both individuals and organizations.
Webinar topics include the pain points of information overload, strategies for its management, corporate digital responsibility, and how personalized artificial intelligence may help.
Featured speakers include Nathan Zeldes (IORG president, and Intel's former Information Overload czar), Lele Terenzani (IBM Digital Communications), Haim Senior (CEO of Knowmail), Dan Calista (CEO of Vynamic) as well as Erica Keswin, Marc Powell (Emailogic), Dr. Lawrence Ampofo (Digital Mindfulness), Steuart Snooks (e-mail productivity expert), Monica Seeley (Mesmo Consultancy), and Jonathan B. Spira, IORG Director and former chief analyst at Basex, who has been researching the topic for over a quarter of a century.
There is no charge to attend the webinar. To register or learn more, go to http://bit.ly/overloaded2017.
Knowmail and IORG are the event's sponsors, hoping to make a difference and help individuals better manage Information Overload… for improved productivity and work life balance.
About the Information Overload Research Group
IORG is made up of researchers, practitioners and technologists from academia, corporations, solution vendors and consultancies. IORG is dedicated to reducing Information Overload, a problem that diminishes the productivity and quality of life of knowledge workers worldwide. Our diverse members and single focus provide thought leadership and access to cutting-edge ideas, promote collaboration between industry and academia, and help shape the science of combating information overload.
CONTACT: Nathan Zeldes
E-mail: President(at)IORGForum(dot)org
ABOUT KNOWMAIL
Knowmail is an intelligent inbox assistant using personalized artificial intelligence to help you focus on things that matter most, do more with less effort, and balance work and life. Their solutions are available for Microsoft Outlook, as mobile apps for iOS and Android, and cross-device for Cortana.
CONTACT: Haim Senior
E-mail: haim.senior(at)knowmail(dot)me