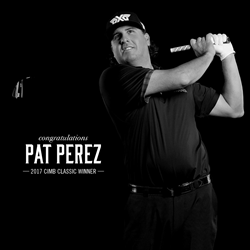 "I couldn't be any happier with life right now. My PXG equipment is dialed in and I'm very much at ease with my game."
Scottsdale, Arizona (PRWEB) October 15, 2017
PXG tour professional Pat Perez claimed his third PGA TOUR victory in his first start of the 2017-2018 season at the CIMB Classic. With a performance chock-full of notable moments, Perez set a new tournament record for lowest 54-hole score (-21) and clinched the win by 4 strokes (-24).
"I couldn't be any happier with life right now," Perez shared. "My PXG equipment is dialed in and I'm very much at ease with my game. Last year, this tournament gave me a sponsor invitation after my shoulder surgery. I was grateful for that opportunity, and to come back and win this year is incredible."
What's in Pat Perez's bag?

PXG 0341X 3 Wood
PXG 0317X 19° Hybrid
PXG 0311XF Xtreme Dark 3 and 4 Iron
PXG 0311 Xtreme Dark 5-9PW
PXG 0311T Milled 54° Sugar Daddy Wedge
PXG 0311T Milled 60° Zulu Wedge
PXG Gunboat
PXG is known for developing leading golf club technology that delivers unparalleled performance – performance that has been validated time and again by players at every level of the game.
Perez's victory at the CIMB Classic makes four wins by PXG's PGA TOUR staff professionals. This is remarkable given the small size of PXG's tour roster and the short time (two years) the company has been marketing its groundbreaking equipment.
"We have every confidence in our equipment and in our players," said PXG founder Bob Parsons. "Pat played lights-out golf this week and absolutely deserved to be the man at the top of the leaderboard!"
"PXG is the best company in the world," Perez added. "My PXG Gunboat putter is one of the main reasons for my success this week."
For more information about PXG or to add Pat Perez's clubs to your bag, visit http://www.PXG.com.
ABOUT PARSONS XTREME GOLF – PXG, A YAM WORLDWIDE COMPANY
Parsons Xtreme Golf (PXG) is based in Scottsdale, Arizona. The company was founded by GoDaddy founder, businessman and philanthropist Bob Parsons in 2014. Leveraging breakthrough technology and sophisticated manufacturing processes that integrate high-performance alloys, PXG produces the finest golf clubs in the world. The company has more than 130 global patents issued for its proprietary designs.
PXG's professional staff includes PGA TOUR champions James Hahn, Billy Horschel, Charles Howell III, Zach Johnson, Ryan Moore, Pat Perez, Charl Schwartzel, and LPGA players Austin Ernst, Christina Kim, Lydia Ko, Brittany Lang, Alison Lee, Ryann O'Toole, Sadena Parks, Gerina Piller, and Beatriz Recari.