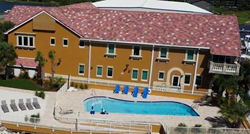 Unfortunately, when a person is in need of rehabilitation, they are often not referred by their primary care doctors to genuine, caring centers like ours. Barnett Gilmer CEO
Gulf Breeze, FL (PRWEB) November 07, 2017
In June 2017, NBC News' aired a very unsettling story. Titled, "The Florida Shuffle: The Sometimes Dirty Business of Rehab," several South Florida "rehab centers" were investigated as being fraudulent and elaborate scams. These supposedly Florida drug rehab centers were luring in people struggling with substance use disorder in order to excessively bill their insurance for services.
Here's a rundown of what happened: scammers in South Florida saw an opportunity to advertise their "centers" that catered to a younger adult crowd. Those who traveled to South Florida for residential treatment were boarded in "sobriety houses" and then driven to "outpatient care," which were mainly twelve step meetings. This practice is so prevalent that, recognizing the problem several years ago, the administration of Gulf Breeze Recovery named these drug treatment facilities O.M.A.Rs., which is Outpatient (centers) Marketing As Residential (centers).
Many parents were sending their young adult children to what they thought was residential treatment in the peace and beauty that South Florida has to offer; however, what was really happening was almost the total opposite. Many of the clients reported they were poorly supervised and that the incentive for the fraudulent drug treatment center was to keep the clients high in order to continue billing their insurance for "treatment." In other words, the expectations for clients in many of these South Florida drug treatment centers was to never gain sobriety. Some of the clients were persuaded to attend AA meetings just to recruit those who had insurance to their center.
Fortunately, investigators, local law enforcement, and local politicians are currently taking major strides to dismantling these illegitimate centers and putting prevention measures in place as well.
"Unfortunately, when a person is in need of rehabilitation, they are often not referred by their primary care doctors to genuine, caring centers like ours. They are left to do their own research among information that is often unregulated and therefore may not be complete or correct. We hope that other Florida drug treatment centers like ours will join us in condemning these shady dishonest practices. Florida has many legitimate drug rehabilitation facilities which provide a tranquil and beautiful place to find sobriety and where people can relearn how to live a happy life. When searching for a drug treatment facility, we recommend that people look closely at the web site for unscripted testimonials, a virtual tour conducted by a third party, video cam that demonstrates in real time the reality of what you or your loved one will experience. Above all, take the time to personally tour the facility to make sure that what you experience is in alignment with what you see on the web site and that the facility simply feels right." Barnett Gilmer, Gulf Breeze Recovery, CEO
Gulf Breeze Recovery is located in Northwest Florida south of Alabama hundreds of miles from South Florida. While we may have waterfront property, the truly peaceful place we elevate and encourage our guests to be is in a new perspective and to take back their lives. Our approach to recovery is nontraditional, and based on a holistic program that truly works. We don't treat symptoms, we offer a new way of thinking and living that is what motivates so many of our former guests to offer their testimonials. "Transparency in everything we do is important to us, what you see on our website is what you get" Kat Allen, Gulf Breeze Recovery, Admission Director.
About Gulf Breeze Recovery: Gulf Breeze Recovery is changing the future of addiction treatment. Gulf Breeze Recovery's THRIVE® program is designed for those who are looking for a drug and alcohol treatment program that may produce a different and positive result. This non-12 step drug program allows you to drive beyond your addictions and promotes a new outlook on life. Gulf Breeze Recovery's THRIVE® program is designed for those who struggle with chronic relapse. For more information about our program or to speak with an Admissions Counselor, please call 855-973-3551.