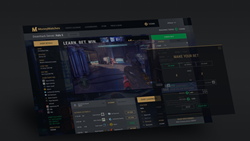 Las Vegas, NV (PRWEB) October 16, 2017
MoneyMatches, a Las Vegas based company focused on Esports solutions, opened its platform Friday for Early Access. This Early Access product released some of its functionality including allowing fans to engage in a free-to-play competition while watching championship streams. The site went live during the early hours Friday and signups began immediately.
"We noticed a gap in the current offerings that exist for our community and fans as a whole," said CEO Zachary Smith. "We wanted to continue to promote education and engagement of all Esports competitions. The competition has gotten so much better over the years and it's exciting to watch the industry grow."
This Early Access coverage begins by covering two events, League of Legends World Championship starting October 18th and the $200k Halo tournament being conducted at DreamHack in Denver, CO the weekend of October 20th. MoneyMatches plans to be live for its first full season of competition in January 2018.
Initial signups indicate both a large interest and excitement from the community. By Sunday, thousands of users had already signed up, far exceeding the goal. "We knew there would be a lot of interest in our product, but didn't expect these numbers. We are excited to cover additional titles and keep adding in features before the formal launch."
The formal launch will cover between 10-20 titles during championship matches worldwide. In addition, users will be able to research organizations, players, news and statistics. MoneyMatches will supplement its competition offering with streams, shows and power rankings.
For more information on MoneyMatches, visit https://www.themoneymatches.com or email media(at)themoneymatches(dot)com.