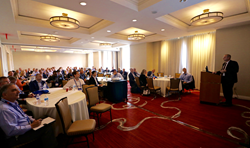 DURHAM, N.C. (PRWEB) October 18, 2017
The International Zinc Association joined with zinc industry sponsors American Metals Market, Everzinc, Hudbay Minerals, Rickher Metals, and Teck to offer the first Zinc Metal Roundtable on October 11 and 12th, 2017.
The event was held in Pittsburgh where over 100 delegates gathered; two-thirds of participants represented zinc end-users including steel producers, die casters, general galvanizers, oxide and dust producers, and recyclers. Attendees learned about emerging zinc market opportunities such as die casting, galvanized rebar and zinc-coated thermal spraying, as well as the markets for zinc in automotive and other areas.
Analysts from CRU and American Metal Market offered forecasts for the zinc market, predicting LME prices will continue to be strong for 2018 due to the supply-demand situation in concentrates. The LME announced that they are examining the possibility of introducing a contract for SHG jumbos.
Based on the success of this event, the International Zinc Association will organize a second Zinc Metal Roundtable in Fall 2018.
Visit http://www.zinc.org to learn more about the Zinc Metal Roundtable and to view a list of the International Zinc Association's upcoming events.
###
About the IZA: The International Zinc Association (IZA) is guided by the principal of ensuring that zinc is recognized as a sustainable and essential material for modern life. Representing the global zinc industry, IZA's major mission is to sustainably grow and protect markets and provide the Industry a license to operate by managing initiatives in Environment and Sustainable Development, Technology and Market Development and Communications.