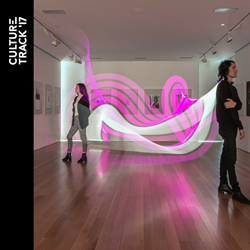 There's a paradigm shift...Audiences nationwide are breaking down cultural norms and redefining them. Now culture can mean Caravaggio, Coachella, Tannhäuser or taco trucks.
New York, NY (PRWEB) October 17, 2017
Culture Track '17, a new study released today, affirms America's interest in cultural activities, but there are some caveats: It has to be fun, relieve stress, be interactive and social. According to the study, which measures the changing behaviors of cultural audiences nationwide, audiences from 18 and up attending an event see "having fun" as their first priority (81%), followed by "interest in the content" (78%), and "experiencing new things," which tied with "feeling less stress" (both 76%). The study also finds there is a "loyalty revolution" in play. Less than a quarter of cultural audiences hold either a membership or subscription to a visual or performing arts organization. While they regard themselves as loyal to these organizations, the highest percentages are more loyal to restaurants or bars (58%) and retail stores (48%), than to cultural organizations (27%), with 61% viewing their loyalty to an organization as a "personal relationship."
According to Maggie Hartnick, Managing Director of LaPlaca Cohen, the strategic and creative services firm that commissioned the study, there's been a paradigm shift in how the public views culture and the arts. "Audiences nationwide are breaking down cultural norms and redefining them. Now culture can mean Caravaggio, Coachella, Tannhäuser, or taco trucks." The study showed, for example, that:

More than a third of art museumgoers did not think art museums were a cultural experience; over half of theatergoers felt the same;
Audiences were more likely to consider a street fair or food and drink experience culture than an opera or ballet;
The most prevalent reasons why people donate to cultural organizations are because they "believe in the mission" (63%) and "want to support the community" (54%).
The lesson, Hartnick says, is that the definition of culture has democratized, possibly to the point of extinction. Activities that have traditionally been considered "culture" and those that haven't are now on a level playing field. "Therefore, museums and performing arts organizations need to change their ways of thinking. They must provide transformational experiences, build community, educate, and foster empathy. They also need to take a close look at how to best build loyalty. The subscription and membership models of the 1970s no longer resonate."
WHO'S DONATING WHERE
Culture Track '17 also contrasted patterns of giving to cultural organizations against giving to other causes. According to the study, the top reasons for donating to nonprofit organizations are driven by their social impact, something that does not usually carry over to cultural audiences. The top three philanthropic causes are Children (42%), Religion (36%) and Health (35%), whereas Culture pulled in a mere 18%. Indeed, the two biggest reasons people gave for not donating to culture are that "other causes have greater impact" and "I only give to one cause" (both 25%).
What that means is that supporting culture for its own sake is no longer a given. "To inspire support, cultural organizations will need to work harder to measure, then articulate, what their distinct impact is on the community," Hartnick explains.
The full Culture Track '17 study will be released publicly on October 17th at special event at The TimesCenter in Manhattan, sponsored by The New York Times, featuring a panel discussion moderated by Michael Kimmelman, Architecture Critic of The New York Times, with panelists Mark Bradford, noted artist; Laura Krajecki, Global Head of Human Truths, Google; and Alex Poots, Founding Artistic Director and CEO, The Shed, Hudson Yards. Arthur Cohen, CEO of LaPlaca Cohen, and Maggie Hartnick, Managing Director at LaPlaca Cohen, will give a 45-minute presentation of the data, followed by the panel discussion.
Subsequent events throughout the country are scheduled as follows:

October 25 in San Francisco, in partnership with San Francisco Arts Commission and area cultural organizations. It will be hosted at Fort Mason Center for Arts & Culture. Panelists are Oakland Museum Director Lori Fogarty, Exploratorium Executive Director Chris Flink, SFFILM Executive Director Noah Cowan, Theatre Bay Area Executive Director Brad Erickson, and Code & Canvas Co-Founder John Yi;
November 8 in Indianapolis, in partnership with the Indianapolis Museum of Art;
November 14 in Denver at the McNichols Civic Center Building, sponsored by Denver Arts & Venues;
November 29 in Minneapolis, in partnership with the Minneapolis Institute of Art;
December 7 in partnership with the ICA Miami;
December 11 in Los Angeles in partnership with the Natural History Museum of Los Angeles County.
HOW CULTURAL ORGANIZATIONS ARE CHANGING THEIR MODELS
Arthur Cohen, LaPlaca Cohen's CEO, notes that several organizations are creating new models of engagement based on consumers' redefinition of culture. "Culture Track '17 shows that consumers continue to crave culture, but they want to consume it the way they consume other brands and experiences. They want culture to be more social and interactive, more relevant to them and their interests, and something new that broadens their perspectives," Cohen says. Organizations are creating new models of engagement. For example:
This month, the former Indianapolis Museum of Art repositioned itself, announcing a new name and purpose. It is now Newfields: A Place for Nature & the Arts, and it is using its entire 152-acre campus to "offer guests of all ages, backgrounds, and interests, experiences that are dynamic." There is a beer garden, performance space, and, in the summer, mini golf (the holes are designed by artists). Inside the museum, there is a preschool on site. 
By texting 572-51 with the words "Send Me" to SFMOMA, anyone can request and receive the image of a work of art chosen from the almost 35,000 works in the museum's collection. As you stroll through the galleries, your smartphone uses a location-based app to determine what you are looking at, and narrates your visit. The app assembles a visual log of your visit, including audio tracks heard and photos taken, for you to remember your visit and to share on social media.
Last January, the Isabella Stewart Gardner Museum in Boston introduced the "What's Your Pleasure" campaign to entice visitors to enjoy the museum's environment itself. The museum is marketed as a spa-like, a mini-vacation, an experience to help people de-stress.
Baltimore Symphony Orchestra, in partnership with the University of Maryland Baltimore County, is conducting a study funded by the National Science Foundation that involves a new concert-enhancing mobile application called Octava, an app for mobile devices that acts as a concert companion for audiences at orchestral concerts.
ABOUT CULTURE TRACK
Culture Track began in 2001 as a national research study of the changing behaviors of cultural audiences, developed pro-bono for the field by LaPlaca Cohen, a collaborative team of strategists, researchers, designers, and planners who develop marketing, strategy and design solutions for the cultural world.
Today, Culture Track has evolved to include a variety of different components (including online content at http://www.culturetrack.com, talks and panels, and more), but the research study—which has been fielded seven times since 2001—is still at the heart of everything Culture Track does.
For Culture Track '17, LaPlaca Cohen worked in partnership with the research firm Kelton Global. The study was fielded nationwide with more than 4,000 respondents, all of whom had participated in at least one cultural activity in the past year. Respondents were 18 years or older, U.S. citizens, and representative of U.S. population demographics.
Culture Track '17 can be downloaded at 2017study.culturetrack.com after 10:30 a.m. on Tuesday, October 17, 2017.