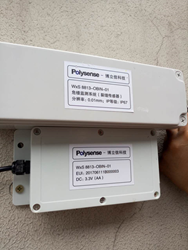 SANTA CLARA, Calif. (PRWEB) October 18, 2017
Polysense and AEIDO Group jointly expand into structure health monitoring (SHM) market
Polysense Technologies, Inc. and AEIDO Group today have jointly announced the strategic partnership to enter into the fast growing Structure Health Monitoring (SHM) market with the LPWAN based IoT technology, specifically, using LoRa based IoT product and solution from Polysense and leveraging the market strength and technical expertise in SHM from AEIDO Group.
The announcement follows the recent presentation and report at Sensor Midwest in Chicago IL, http://www.sensorsmidwest.com/, titled "Tilt, Vibration and Crack Monitoring for Building Life Cycle Health with Cloud Data Analytic." The presentation and report detailed the successful commercial deployment of its SHM solution for a few dozens of aging building structures which are designated as unsafe and must be monitored in real time in the city of Shaoxing, China (https://en.wikipedia.org/wiki/Shaoxing). In the Yangzi Delta region alone, it is estimated that there are over 400,000 buildings which will require SHM solutions in the coming years.
"We are very excited to partner with AEIDO Group to provide a turkey SHM solution," says Alex Wu, President of Polysense Technologies, Greater China, "we will continue to develop additional sensing capability such as foundation settlement to enhance the SHM solution."
The SHM solution consists of various LoRa sensor end nodes, LoRa outdoor Gateway, and cloud based data management platform (Polysense iView). This allows the end users (local government agencies) to monitor the inclination, crack growth, and vibration hourly, with 0.1 degree inclination accuracy and 0.1mm crack accuracy using accelerometer and displacement sensor. With the wide area coverage of LoRa technology, the solution can be rolled our quickly and cost effectively. Further, the solution is wireless and battery powered, easy to install, in comparison with wired sensors.
Mr. You Dong, Chairman and CEO of AEIDO Group, commented, "The Polysense SHM turkey solution is both flexible to deploy and feature rich, enabling us to meet the requirement of our end customers. We plan to expand nationwide in 2018 in China, and also are exploring the market feasibility in USA as well as United States also has an aging infrastructure."
There are millions of unsafe structures in USA and in China, due to structures' age, building code weakness, unsound structure design, geological and environmental conditions such as hurricane/flooding, or simply defective materials, including residential and commercial buildings, historical buildings, bridges, dams, tunnels, and platforms. This, on one hand, often poses a dangerous situation for the residents and users of these structures, and on the other hand, also represents a significant market for LPWAN IoT.
Availability
Polysense's LoRa WxS 8800 product line is in mass production and immediately available for ordering.
Please contact Polysense for further ordering and pricing information
About Polysense
Located in Santa Clara, California, heart of the Silicon Valley, also with offices in Beijing and Shanghai, China, Polysense develops products and solutions for Industrial IoT and smart homes, including distributed fiber sensing, LPWAN LoRa and NB-IoT based wireless IoT sensors, Passive Optical Network (PONs) and cloud based data management and analytic platform.
About AEIDO Group
Headquartered in Beijing, China, with 18 wholly owned subsidiaries (one of which is a publically listed company) and offices in Beijing, Shanghai, Los Angeles, San Francisco, Fujian, AEIDO Group is a leading corporation in the area of building structure design, investment and development, earthquake reinforcement, safety inspection, and monitoring, service operation and certification, and elevator services since 1999.
Polysense Press Contact: Katherine Yang
Email: kyang(at)polysense(dot)net
Phone: +1-408-800-7728
Web: http://www.polysense.net
AEIDO Group Press Contact: Ying Xiao
Email: yingxiao(at)aeido(dot)com
Phone: +86-400-618-0509
Web: http://www.aeido.cn/