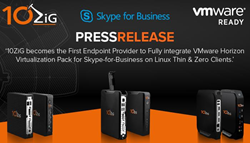 Leicester, UK (PRWEB UK) 18 October 2017
In anticipation of the release of the general availability of VMware Horizon Virtualization Pack for Skype for Business, 10ZiG Technology has become the first to fully integrate the virtualization pack into their Thin & Zero Clients, making this the "first time ever" a Linux-based Thin or Zero Client will include Skype for Business functionality for VMware Horizon.
"There has been much welcomed anticipation of the convenience of VMware Horizon with Microsoft Skype Integration becoming supported for Windows-based, and now Linux-based Clients. The 10ZiG R&D Team has been working with VMware at integrating the Horizon Virtualization Pack for Skype for Business into our wide range of Linux and Windows based VMware Horizon Thin & Zero Client devices. Combined with our easy, 'can-do' approach and powerful line of Thin & Zero Clients, we offer an optimized experience with Microsoft Skype for Business and VMware Horizon." Says Kevin Greenway, Chief Technology Officer of 10ZiG Technology.
10ZiG with Horizon Virtualization Pack for Skype for Business (SFB) Benefits
For the first time ever, Skype for Business for Linux can be delivered within a virtual desktop, while providing a great user experience. The VMware Horizon Media Engine is installed locally to the 10ZiG Client, alongside the VMware Horizon Client, and is used to offload audio and video communications peer-to-peer, or offload entirely to a central multi-party call or meeting. SFB benefits include secure data, easy centralized deployment application, and user-friendly collaboration with all devices and platforms. Lower associated costs are also possible with choosing communications to be conducted at endpoints, instead of a data center.
10ZiG is VMware Ready with Blast Extreme, Wi-Fi, and Other Features
In addition to Skype for Business support, 10ZiG Windows-based and Linux-based Thin & Zero Client devices are VMware Ready and Certified, and enabled with Blast Extreme, Wi-Fi, and more. The SFB feature from Microsoft and VMware provides 10ZiG users with the most flexible and feature-rich VMware Horizon based Thin & Zero Clients available on the market today. Customers can choose from Blast Extreme or PCoIP, as well as other Client features including USB/Analog Audio, Multi-Monitor, Client-Side Caching, Client Drive Redirection, Smart Card Redirection, USB Redirection (Class/Device granularity), FIPS (FIPS-140-2 Mode Support), Multimedia, vGPU Support, etc.
10ZiG Manager – Our Exclusive Centralized Management Software Utility
Always free with Client purchase and with free, downloadable ongoing updates, our centralized management software combined with the Horizon Virtualization Pack for Skype for Business makes our Thin & Zero Client experience the easiest and smartest. New features added through 2017 include; Web Console – a web-based GUI Centralized Management Tool, Cloud Manager – PeakOS™ (Linux) /NOS™ (Soft Zero) Client management via the internet, Database and Service Optimization, Site Scaling for Large Deployments, and Role-Based Access – granular access to console for different types of administrative users.
About 10ZiG Technology®
10ZiG Technology is a world-market leader in Thin & Zero Client endpoint devices for Virtual Desktop Infrastructure. 10ZiG provides leading Intel and AMD based Dual and Quad Core Thin Clients & Zero Clients for VMware PCoIP & Blast Extreme, Citrix HDX, and Microsoft environments, in addition to the widest range of Teradici PCoIP Zero Clients on the market. 10ZiG offers free, no-obligation demo devices, Technical Support teams based in the U.S. and U.K., and provides The 10ZiG Manager console with cloud capabilities completely free with unlimited user licenses supported. Get a free evaluation device today or request to become a 10ZiG partner at http://www.10ZiG.com.
Contact Us
To learn more about cutting edge VDI technology from 10ZiG, or to arrange for a FREE Thin or Zero Client demonstration device, please contact 10ZiG below.
EMEA Headquarters (UK)
10ZiG Technology Ltd.
Unit S2, Troon Way Business Centre
Humberstone Lane
Leicester LE4 9HA, UK
P. +44 (0) 116 2148650 | Email: info(at)10ZiG(dot)eu | Web: http://www.10ZiG.com
Corporate Headquarters, US
10ZiG Technology Inc.
23309 N. 17th Drive #100
Phoenix, AZ 85027, USA
P. (866) 865-5250 | Email: info(at)10ZiG(dot)com | Web: http://www.10ZiG.com