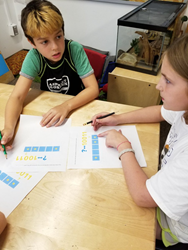 NEW YORK (PRWEB) October 17, 2017
The National Museum of Mathematics (MoMath), in partnership with the Global Math Project (GMP), announced that it has exceeded its goal of reaching more than one million students in over 100 countries, during the first ever Global Math Week, October 10-17, a collaboration among math professionals from around the world.
From Albania and Argentina to Somalia and South Korea, using the hashtag #gmw2017 and #explodingdots, students, teachers, and math enthusiasts shared their thoughts and feelings on social media about completing a universally enjoyable math program, called "Exploding Dots." "Exploding Dots" is used to teach various aspects of math and can be customized by instructors to classroom grade level.
"I am excited and delighted that the Global Math Project has surpassed our goal of reaching more than one million students in over 100 countries around the world with a piece of joyous mathematics," said Cindy Lawrence, Executive Director of MoMath. "This demonstrates that math can be a collaborative, exuberant, human endeavor with universal appeal when presented in the right way. With the amazing success this year, we're looking forward to an even greater impact next year."
The Global Math Project, spearheaded by speaker, author, and mathematician James Tanton, included organizations such as the American Institute of Mathematics, Math Plus Academy, Great Minds, and the National Museum of Mathematics.
About the National Museum of Mathematics
The National Museum of Mathematics (MoMath) strives to enhance public understanding and perception of mathematics in daily life. Since it opened in December 2012, MoMath has reached more than one million New Yorkers and visitors from around the world.
The only math museum in North America, MoMath fulfills an incredible and critical demand for hands-on math programming, offering a space where those who are math-challenged, as well as math enthusiasts of all backgrounds and levels of understanding, enter and enjoy the infinite and beautiful world of mathematics through more than 37 unique state-of-the-art interactive exhibits.
In addition to MoMath's home in New York City, Museum exhibitions and content are currently featured in Singapore, Brazil, Germany, Russia, Spain, Sweden and the UK.
MoMath was awarded the bronze 2013 MUSE Award for Education and Outreach by the American Alliance of Museums.
MoMath, located at 11 East 26th Street on the north side of popular Madison Square Park in Manhattan, is open seven days a week, 10 a.m.-5 p.m. For more information, visit momath.org.
####
Media Contact:
Lisa Sherman-Cohen|lisa(at)gzandassociates(dot)com | 347-539-7382