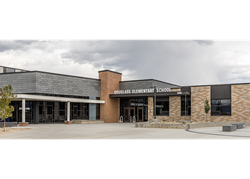 "We're incredibly excited to see what comes of our building efforts."
BOULDER, Colo. (PRWEB) October 17, 2017
On Thursday, September 28, Adolfson and Peterson Construction (AP), along with Boulder Valley School District and RTA Architects, cut the ribbon on the school district's newest addition: Douglass Elementary School.
The project involved a rather extensive replacement process, with the new school built in close proximity to the existing. The old building was then demoed to add the new parking lot and landscaping. The school's floorplan begins with a large open area that presents a variety of different educational zones to accommodate multiple learning styles from large group assembly, to smaller collaborative group work and, single and one-on-one educational modes. Students will be clustered by grade in Learning Communities that will include learning studios, a project room, a small group room, a shared teacher collaboration room and flexible shared common areas. These multi-use spaces will allow teachers and students to interact in multiple learning modalities. A Curiosity Center is a creative hub of activity design to promote intellectual exploration and interactive learning. The school also features an Early Childhood Education wing supporting Pre-K and Kindergarten students.
"We at AP feel lucky to have been a part of this school," said AP Project Manager Jade Mercer. "We're incredibly excited to see what comes of our building efforts."
At 59,000 sf, this new school was designed to meet the District's Sustainability Management System and Sustainable Energy Plan and is net-zero energy capable. Douglass Elementary is part of the District's Exemplar Schools Program developed in conjunction with educational planners and Fielding Nair International.
About AP
Adolfson & Peterson Construction (AP) is a U.S.-based, privately held builder that is consistently ranked among the top 50 construction managers and general contractors in the nation. Headquartered in Minneapolis, Minnesota, the company delivers innovative and collaborative building solutions for clients across the country from its regional offices in Charlotte, Dallas, Denver, Minneapolis and Phoenix. Founded in 1946, AP serves clients in the education, healthcare, commercial, municipal, multifamily, hospitality and senior living market sectors. For more information, visit http://www.a-p.com or follow us on Facebook, LinkedIn and Twitter.