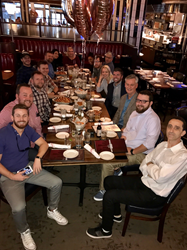 "I couldn't be more proud of the people that I work side by side with and all of our accomplishments."
COLUMBUS, Ohio (PRWEB) October 18, 2017
Just for today, gold balloons and champagne glasses are putting laptops and briefcases in the backseat. Friday morning will be business as usual but the Idea Buyer crew is taking Thursday afternoon off. Just weeks after snagging spot 165 on the 2017 Inc. 5000 list, the company is celebrating 10 years of making ideas a reality.
In 2007, Idea Buyer LLC. was just an idea in the head of a college kid in a tiny apartment-a world away from the custom remodeled offices that now house the company. Idea Buyer has seen $3.5 million in sales in the past year. Says President and CEO Eric Corl on his enormous success: "My wife and I built this company from the start with one goal in mind; to provide tremendous value to select entrepreneurs we sincerely believe we can help. Over 10 years, that philosophy has continued to help us grow our world class team and partner product line."
Early stages saw Idea Buyer positioned as a web-based platform for inventors and entrepreneurs to market intellectual property-in other words, to sell ideas. In no time, Eric recognized a market need for a team with the fundamental skills to take an idea from the conceptual stage to a retail shelf. Idea Buyer now offers digital and creative design, engineering, prototyping, outreach, retail sales management, marketing, manufacturing coordination and legal services-all under one roof.
When asked her thoughts on the milestone, VP of Marketing Lindsey Yeauger said "I'm so grateful to have been a part of the growth of a company that still has so much potential. I couldn't be more proud of the people that I work side by side with and all of our accomplishments."
10 years into the journey, what's next? After a decade, the progress keeps coming-a revamped website is being unveiled soon, as well as a new logo. "I don't want to be so cliche as to say that the sky's the limit," laughs VP of Product Distribution, John Weiler. "But we've definitely got a lot of great things coming."
Media contact: Tyiesha Evans tevans(at)ideabuyer.com, 832.683.1527
For more information, please visit http://www.ideabuyer.com.