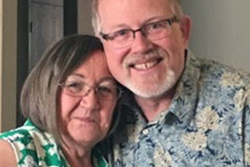 It took me a bit of time to get myself composed enough to walk around the corner to the front door, and then be able to grab my mom and giver her a big hug. She was crying, and I was crying. It was pretty unbelievable.
SAN DIEGO (PRWEB) October 17, 2017
Nearly six decades ago, a hunting accident drove David Neal's parents apart. He was ultimately adopted as a child. But decades later, Neal, 57, typed his birth mother's name into Instant Checkmate, a public records search website. Using the information he found in her report, he was able to reconnect with his birth parents, meet his siblings and grow the size of his extended family.
Neal's parents were high school sweethearts. But when his mom's brother accidentally shot and killed his dad's brother on a hunting trip, his parents were banned from seeing each other. When his mother became pregnant, her family made the decision to put Neal up for adoption.
Nearly six decades later, Neal used Instant Checkmate to find his birth mother's contact information. The site aggregates information from public records and online sources into easy-to-read background reports, and Neal was able to find contact information for his siblings, mother and father.
On June 24, 2017, Neal met his biological mother on his birthday. "It took me a bit of time to get myself composed enough to walk around the corner to the front door, and then be able to grab my mom and give her a big hug," he said. "She was crying, and I was crying. It was pretty unbelievable."
In October, Neal will travel with his biological mother to Arkansas to meet his biological father. The family plans to celebrate his father's 75th birthday and continue forging the bond they lost so many years ago.
Instant Checkmate President Steven Gray said, "David's story reveals just how powerful Instant Checkmate can be. We pride ourselves in building a product that helps foster connections and build relationships. Being able to reunite lost friends and family across the country is a gratifying part of the work we accomplish here at The Control Group every day. David's story is incredible, and I wish him and his newly extended family continued happiness."
Neal said, "Using the product helped me get ahold of my family, be able to talk to them, and get the visit set up. It worked really well for me."
Further details about his story are available on Instant Checkmate's blog. Instant Checkmate compiles information from public records into user-friendly background reports. People have used the website to reconnect with friends and family members, learn more information about neighbors and online dates, and look up almost anyone in the United States. Instant Checkmate offers background reports, reverse phone number searches, reverse email lookups, and reverse address lookups that display details like personal information, criminal records, contact details, location history, and more.
About Instant Checkmate
Instant Checkmate is an online service that provides people finder, public record and criminal record information to individuals on a subscription basis. Instant Checkmate aggregates data from federal, state and local sources, which have been processed and made available electronically. Some of the databases used by Instant Checkmate include state sex offender information, court dockets, census records, county arrest records and other public records. Instant Checkmate compiles public records and creates user-friendly reports describing people living in the U.S. Instant Checkmate is not a consumer-reporting agency, does not provide consumer reports and may not be used for consumer credit, employment, insurance, tenant screening or any other purpose subject to the Fair Credit Reporting Act. For more information about how to use Instant Checkmate, please visit Instant Checkmate's help page.