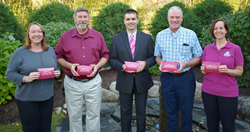 Together with our retailers, shoppers and area businesses like Belknap Landscape Company, we unite in the fight every October.
TILTON, N.H. (PRWEB) October 17, 2017
Belknap Landscape Company of Gilford is once again a proud sponsor of the Tanger Fit For a Cure 5K Run/Walk. Held at the Tanger Outlets in Tilton in September, this event has raised funds to benefit LRGHealthcare breast health initiatives and to generally promote a healthy, happy lifestyle in our community for the past 9 years. Belknap Landscape has also purchased $700 in Tanger Pink Cards to hand out to its employees as a way to say thank you for all of their hard work and at the same time help support the Tanger PINK Campaign. The cards offer a 25% discount at participating Tanger Outlet stores through October 31st.
Becky Doherty of LRGH would like the community to know, "A portion of the proceeds raised from the Tanger Pink Campaign will benefit breast health initiatives at LRGHealthcare. Over the years, Tanger's philanthropic donations (made possible by shoppers and businesses such as Belknap Landscape Company) have had an enormous impact on the purchase of state-of-the-art digital mammography technology. In addition, funds raised in recent years have allowed the staff in the Oncology Department to offer a helping hand in a number of ways to those patients battling breast cancer, ranging from prosthetics to wigs to gas cards to get to appointments. It's these small gifts that often offer a bright spot during what can be a very difficult time."
Eric Proulx, General Manager of the Tanger Outlets in Tilton, is passionate about the Pink Campaign stating, "We are committed in helping breast cancer/health patients on a local level as well as trying to help find a cure on a national level. Together with our retailers, shoppers and area businesses like Belknap Landscape Company, we unite in the fight every October. Whether it's supporting the 5K or Pink Card Program, we can always count on Belknap Landscape Company to support Tanger's efforts to give back to the community in which we work or live - our collective efforts are a huge win!"
A sponsor since its inception, Belknap Landscape is proud to support this partnership and to help raise funds and increase awareness in the community. For more information on the Tanger Pink Campaign or to purchase Tanger Pink Cards for yourself or your employees, check out their website at http://www.Tangeroutlet.com or the Tanger Outlets Tilton Facebook page.
About Belknap Landscape Company:
Belknap Landscape Company, Inc. is a family owned full service business located in the beautiful Lakes Region of New Hampshire. Established in 1988 by Hayden McLaughlin, Belknap Landscape owes their 28 plus years of longevity to a commitment to quality and horticultural expertise while exhibiting a unique concern for the Lakes Region, the environment, and their community connections. Visit http://www.belknaplandscape.com or Houzz for more information.