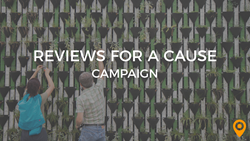 CHICAGO (PRWEB) October 19, 2017
UpCity's Reviews For a Cause campaign, which ran during September, has come to a close. UpCity pledged to contribute to micro loans for every new review acquired on an agency's profile throughout the month. The campaign ended on September 30th and raised a total of $1,000 for entrepreneurs across the world.
UpCity Top Local Agencies out of Denver, Atlanta, Los Angeles and Las Vegas were among the top performers throughout the month. Nearly 60 agencies from the community participated in the campaign.
The loans that were supported as a result of this effort will eventually be repaid and the funds will be reinvested into similar causes.
For more information on the Reviews for a Cause campaign or the final results, visit http://www.upcity.com/blog/top-local-agency-reviews-cause-campaign-results/