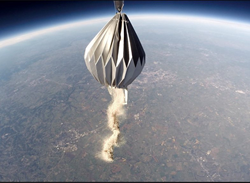 Ash scattering has become a popular and intimate memorial option. But scattering ashes from the edge of space brings this practice to a whole new level.
Saint Paul, MN (PRWEB) October 18, 2017
OneWorld Memorials, a leading eCommerce retailer selling cremation urns and other related memorial products, has from their inception offered customers a wide array of cremation oriented memorial products, ranging from the traditional to the cutting edge. Innovative and exclusive ash scattering urns have always been a top product line in their shop. But these ash scattering products have been used in ceremonies strictly staged on earth or on water.
Ash scattering urns are a popular choice for OneWorld Memorials customers, and this popularity continues to grow, especially as the preference for cremation gains greater acceptance. "People seem to be much less interested in having their body buried and have mixed feelings about storing ashes at home", said Ira Woods, OneWorld Memorials' president. "There is a growing attitude that once they have passed away and were cremated, people would like to see their ashes go back to nature. The scattering of ashes has become a popular and often intimate way of allowing that to happen."
In complementing OneWorld Memorials' ash scattering category, Mesoloft presents an exceptional opportunity. Scattering a loved one's remains on top of a mountain or out in the ocean, is a common choice. But the Mesoloft approach now enables the more adventurous to be scattered from 90,000 feet above the earth's surface.
Although the Mesoloft innovation is relatively new, it is backed and supported by a team of dedicated engineers with solid experience and many successful launches. Mesoloft takes the ashes up in a high-altitude balloon and releases them at such a height that the curvature of the earth can be seen just below the darkness of space. At the high point in the balloon's journey, an ash container connected to the balloon is remotely opened to allow the ashes to flow out. The ashes are then picked up by various air currents and carried around the globe, eventually settling back to earth. For months, the ashes can travel far and wide during their descent, coming to rest anywhere around the planet. It is not unreasonable for the ashes to become part of the Atlantic Ocean, the soaring Himalayan Mountains and the breathtaking valley of Yosemite National Park.
For those who have a love for travel and adventure, Mesoloft and OneWorld Memorials offer an outstanding proposition. And "as amazing a journey as it is, what puts the Mesoloft service in a category of their own is that they have developed a way to outfit the balloons with video equipment to document the ascent and ash release into the atmosphere," says Woods. The launch is timed and coordinated in such a way as to enable the Mesoloft team to retrieve the equipment. This makes for a unique memorial that customers can keep and share with other family members to experience and treasure, not just in their imaginations, but with their own two eyes.
To learn more: Visit our OneWorld Memorials' Mesoloft page to see videos of the process in action and to learn about pricing and ordering.