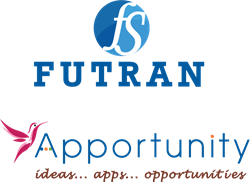 Edison, New Jersey (PRWEB) October 19, 2017
New Jersey based IT Consulting and Staffing Solutions Company,Futran Solutions, Inc. has recently acquired Apportunity Futureware, an established Indian app development company operating out of Mumbai and Chandigarh. Futran Solutions provides IT services in artificial intelligence, big data sciences, web development, and mobile apps development. The company serves variegated industries like life sciences, insurance, finance, gaming, retail and media and communications.
In view of its expanding spectrum of services in the mobile app development scene, Futran Solutions has strategically decided to add more knowledge and expertise to their existing processes. The acquisition of Apportunity Futureware is being viewed upon as an extension of the exercise.
Mr. R. Narayan, COO of Futran Solutions said: "With this acquisition, Futran Solutions can now address all small and large corporations with their web and mobile applications. Apportunity will lend us agility in the development of iOS, Android, Web based applications. Apart from this, Apportunity brings a range of capabilities in appification such as, Market Viability analysis, suctioning, UI/UX, Development, testing, market strategy, app launching solutions, etc."
Apportunity has provided exclusive solutions for the mobile development needs of startups as well as well-established enterprises. Mrs. Jyoti Vazirani, President, Futran Solutions, reiterated: "We went ahead with this strategic acquisition to give Futran the opportunity to offer its clients mobile development solutions and acquire new clients who are in need of mobile development solutions right from the idea to the opportunity."
About the companies
Futran Solutions, Inc. is a full-service IT organization with solutions in big data, artificial intelligence, web and mobile development.
Apportunity is an integrated app development company that services both web and mobile platforms. It also extends into services like app testing, mobile app launching solutions and mobile application viability analysis.
For more information, please contact:
Public Relations, Futran Solutions
Phone: 732-236-8877
Email: vjyoti(at)futransolutions(dot)com