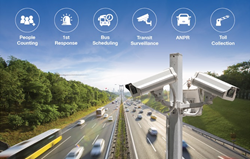 Montreal, QC (PRWEB) October 17, 2017
The Intelligent Transportation Systems World Congress is where global leaders in intelligent and transformative transportation will showcase and evaluate the latest innovative concepts, active prototypes, and live systems. Taking place this year in Montreal, Quebec, Canada, from October 29 to November 2, visitors will be able to interact with one such leader—NEXCOM—which will be on hand to showcase its latest in-vehicle and infrastructure computing solutions.
Focusing on people counting, first response, bus scheduling, transit surveillance, automatic number plate recognition (ANPR), and toll collection, NEXCOM offers a wide array of computing solutions to fit specific needs. For example, the MVS 5603 is a customizable modular vehicle computer system that allows for redesign of I/O and expansion modules. Working samples can be ready in as little as 30 days, thereby cutting time-to-market by 75% and development costs by 40%.
NEXCOM also offers a super slim, ruggedized solution in the form of the VTC 1910 telematics IoT gateway. Compliant with strict MIL-STD-810G military standards, the compact and fanless VTC 1910 can be installed in tight and harsh in-vehicle environments, making it an ideal solution for passenger infotainment, fleet management, dispatching system and more.
To learn more and see the solutions first hand at ITS World Congress, visit NEXCOM at booth #424. Complimentary exhibit hall passes are available by contacting NEXCOM at marketing(at)nexcom(dot)com with Subject heading, "ITSWC Pass."
Expo Details:
Dates: October 30 to November 2, 2017
Location: Palais des congrès de Montréal
Montréal, Québec, Canada
NEXCOM Booth #: 424
Email for Free Exhibit Hall Pass: marketing(at)nexcom(dot)com