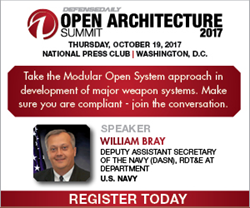 ROCKVILLE, Md. (PRWEB) October 17, 2017
At Open Architecture Summit, you'll hear from industry and government program managers how OA will enable future platforms to keep up with evolving threats and emerging technologies. Open architecture requirements can help the Defense Department keep pace with commercial technology. Budget restraints demand that military services squeeze every bit possible from the service lives of legacy and combat systems, requiring retrofits of emerging technologies that resuscitate designs approaching obsolescence. Learn how the leap is made from today to truly next-generation or leap ahead platforms.
Dan Parsons, Editor for Defense Daily and Chairman of Open Architecture Summit, has been working to secure the prestigious speaker line-up for this event. Here are the confirmed key speakers:

Maj. Gen. David G. Bassett, Army Program Executive Officer for Ground Combat Systems, U.S. Army
John C. Bowling, Technical Expert, Avionics Architectures and Interoperability AFLCMC/EZAC, U.S. Air Force
William Bray, Deputy Assistant Secretary of the Navy (DASN), RDT&E at Department, U.S. Navy
Eric "Delta" Burke, Avionics Lead for Future Vertical Lift, Harris Corp.
Judy Cerenzia, FACE™ Consortium Director, The Open Group
Dr. Steven A. Davidson, Director, Product Family Development and Open Systems Architecture, Raytheon Space & Airborne Systems
Scott Davis, Army Combat Support and Combat Service Support (CS&CSS), U.S. Army
Ian Dunn, Vice President of Sensor and Mission Processing, Mercury Systems
Major General Robert "Bo" Dyess, Acting Director, Army Capabilities Integration Center
Nick Guertin, Senior Systems Engineer, Systems Planning and Analysis Inc.
Daniel Hebert, Air Force on BMC2 & Survelliance, The MITRE Corporation
Jeffry A. Howington, Principal Business Development Manager, Rockwell Collins Government Systems
Mr Craig A. McCarter, National Security Agency (NSA)
Mitch Miller, Technical Advisor Avionics and Cyber Resiliency, U.S. Air Force
Major General Niel E. Nelson, Assistant Deputy Commandant for Combat Development & Integration and Deputy Chief of Marine Corps Combat Development Command, U.S. Marine Corps
Marcell Padilla, Army OA Program Manager and Senior Engineer, CRL Technologies, Inc.
Angel Salinas, Senior Principal Systems Engineer, CACI Intl Inc
Ken Stanka, Lead Engineer, Avionics Architecture, PMA209 NAVAIR, NAVAIR
Jamie Stevenson, Advanced Solutions CTO, Leidos Defense and Intelligence
Brian R Womble, IWS 9.0, Zumwalt Combat Systems
Maj. Gen. Sarah Zabel, U.S. Air Force, Director of IT Acquisition Process Development, Defense Information Systems Agency (DISA)
Federal Government employees and Active Military qualify for FREE Registration.
Government Contractors and all other General Attendees may save $200 on Registration by using this promo code at checkout: LATEBIRD
To find out more visit http://www.openarchitecturesummit.com -OR- REGISTER HERE
About Defense Daily
For more than 60 years, Defense Daily has been the leading daily publication for business
leads and defense market intelligence in land, sea, air, and space initiatives. We're delivering our award winning reporting to 40,000 unique users a month. Learn about money-making opportunities in: Aircraft, Naval Systems, C4I, Future Combat Systems, Information Warfare, Homeland Defense, Land Warfare, Net Centric Warfare, Space & Satellites and Unmanned Aerial Vehicles.