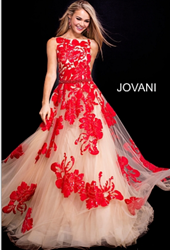 The new prom dress line is part of [Jovani's] general emphasis on creating dresses that fit their customers to a T
New York, New York (PRWEB) October 17, 2017
New York-based dress designer and manufacturer, Jovani Fashion, made public its 2018 collection of prom dresses on Friday, October 13. The firm says that the new line of dresses offers an emphasis on new styles, new trends, and more varieties of bold colors than ever before. Jovani Fashion also notes that the new prom dress line is part of its general emphasis on creating dresses that fit their customers to a T and is ready to be on the market well before prom season of 2018 gets started.
Jovani, which has been in operation since 1980, specializes in making formal and special occasion dresses that are specially designed to appeal to young women from all walks of life and many body types. The brand also notes that it has worked with retailers both large and small throughout the United States and worldwide, and that it also prides itself on providing outstanding customer service, ensuring that retailers get the dresses they need, when they need it.
Jovani adds that it also makes a point of staying on top of all the latest fashion trends and the hottest colors – from basic black and white, to burning red, to dazzling silver and emerald, the firm notes that it works extremely hard to ensure that customers have access to whatever they are looking for, and that retailers always have access to designs that really sell.
Jovani also notes that another advantage to its role in the marketplace is its strong focus on providing prom dresses, evening gowns, cocktail dresses, contemporary ready-to-wear fashions and much more for women in a wide variety of body types. Jovani notes that it makes fashions specifically tailored by women of the numerous shapes, including apple, busty, hourglass, pear shaped, petite and slender.
Jovani Fashion concludes by noting that its primary goal is to make sure that retailers and their customers have access to fashions that will get them they attention they crave, whether at prom, a wedding, a quinceañera, a formal business event, or a Hollywood premiere. Retailers and other readers who would like to learn more are invited to visit the Jovani Fashion web site.