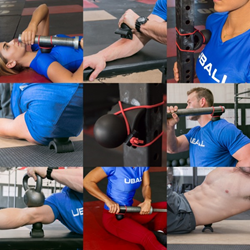 "I was in a nasty car crash a few years ago and the physical therapist's deep tissue massages had a great impact on my healing," says Julian Sardinas, Founder of UBALL.
Davie, FL (PRWEB) October 17, 2017
Today, UBALL, the ultimate mobility and pain relief tool, announced the launch of their Kickstarter campaign. Unlike any other mobility tool on the market, the UBALL delivers a localized deep tissue message, just like a human elbow, with a dual functionality to scrape away scar tissue. Its unique shape is designed to be secured to a barbell, allowing for enhanced acute pressure to release built up tension from training or from injuries. The UBALL is available through Kickstarter for a limited quantity to the first backers at a discounted price of $15 (savings from $25 retail price), which includes free U.S. shipping through November 17th. The UBALL will begin shipping in February 2018, approximately 2-3 months after the completion of the Kickstarter campaign.
The UBALL is the perfect tool for anyone who participates in strength training and experiences intense pains and strains such as crossfitters, powerlifters, body builders, strongmen/women, MMA, first responses, military personnel and physical therapists. The ball component providers localized pressure to a specific knot where the U acts as a therapist's IASTM (instrument assisted soft tissue mobilization). The firm material of the UBALL allows for a deeper massage compared to other mobility tools. Unlike a traditional foam roller, the UBALL is better able to target knots because it is stationary and can target one spot at a time. The UBALL only weighs 8.5 ounces and is the same size as a lacrosse ball, making it an ideal size to toss into any gym bag.
"I was in a nasty car crash a few years ago and the physical therapist's deep tissue massages had a great impact on my healing," says Julian Sardinas, Founder of UBALL. "Unfortunately the insurance company eventually stopped covering the physical therapy and none of the mobility tools I found on the market were truly able to duplicate that same deep tissue massage. This experience led me to create my own solution."
For more information about UBALL and to place an advanced order please visit: bit.ly/kickstartuball
About UBALL:
UBALL is a mobility and pain relief tool designed to help athletes recover from the pains and strains of training. The UBALL is the first dual functioning mobility tool that targets acute deep tissue knots as well as scar tissue. Unlike other mobility tools on the market, the UBALL is also able to attach to a barbell with the UBungee for added acute deep pressure to release tension and knots from strength training or from injuries. For more information please visit: https://www.uball.net