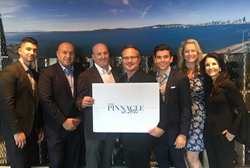 "This new construction condominium is one of very few such offerings on the market. It offers a compelling opportunity to own an iconic waterfront and skyline view from West Seattle, yet remain just moments to the foot ferry and all that downtown Seattle has to offer." - Dean Jones, President & CEO
SEATTLE (PRWEB) October 17, 2017
Representatives of Realogics Sotheby's International Realty (RSIR), ReMax Northwest Realty and Attollo Development jointly announce the commencement of construction and home reservations for The Pinnacle at Alki – an eleven-unit, luxury condominium development located at 1118 Alki Avenue SW in West Seattle. Representatives confirm the boutique community, offered by The 11 @ Alki, LLC, has secured reservations on six of eleven homes and one home received a back-up reservation during a Design Preview Event held on Saturday, October 14th. Several dozen prospective buyers and brokers attended the reception to view floor plans, renderings, preliminary specifications and introductory pricing that ranged from a single one-bedroom plan of 885-sq. ft. and offered from below $800,000 to three-bedroom plans (1,723-sq. ft. to 2,043-sq. ft.) ranging in price from $1,500,000 to more than $2,350,000. Five homes remain for reservation, with presales commencing in November 2017. An Encore Preview Event is scheduled for October 21st (1-4pm) at 2715 1st Avenue in downtown Seattle.
"The Pinnacle at Alki is an aptly-named development and promises to establish a new product category of residential real estate on one of the most coveted sites in all of Seattle," said Dean Jones, President and CEO of Realogics Sotheby's International Realty. "This new construction condominium is one of very few such offerings on the market. It offers a compelling opportunity to own an iconic waterfront and skyline view from West Seattle, yet remain just moments to the foot ferry and all that downtown Seattle has to offer."
Jones says the building will offer endless vistas ranging more than 200-degrees from downtown Seattle, across Elliott Bay and west towards the Olympic Mountains. The residences will boast floor-to-ceiling windows, expansive interiors, northwest contemporary styling and a rooftop terrace that includes an outdoor kitchen, two BBQs and fireside seating areas.
Unit specific reservations require a $5,000, fully-refundable deposit held in escrow and offer the buyer a first right of opportunity to secure the home for purchase once the final specifications, pricing and legal underwriting are completed. The six-story development is being built by Crestline Builders and is anticipated to deliver by Q4-2018.
"Our future homeowners appreciate the opportunity to preview this rare offering ahead of the public sales debut," said Dave Janssens, the listing broker with Realogics Sotheby's International Realty. "In this market, it's a real advantage to reserve a home without fear of multiple offers, price escalation or missing out."
As Janssens points out, there are only three new construction, high-rise condominiums currently under development and two-thirds of what will be delivered by 2020 is already presold. Meanwhile, the median home price of a resale condominium in downtown Seattle has spiked by 35-percent in September 2017 over the prior year, according to the NWMLS. The median asking price of this existing inventory is now more than $1.5 million, skewed because only 13 of the 45 active listings being priced below $1 million. The top listing is now $13,800,000.
"It's remarkable that 94-percent of what is being built in downtown Seattle within the current decade is all for rent and not for sale," adds Gary Stepaniants, the co-listing agent with ReMax Northwest Realty. "Selection is very scarce along Alki as the available inventory is either in older buildings, of smaller square footage or doesn't offer a preferred vantage point. The Pinnacle at Alki is specifically designed to address this unmet demand. On account of our brisk sales activity, it appears we are building just what the market has been waiting for."
Prospective buyers are encouraged to register for more information at http://www.ThePinnacleatAlki.com.
###
About Realogics and Realogics Sotheby's International Realty (http://www.Realogics.com & http://www.RSIR.com) - Founded in 2002, Realogics, Inc. is a leading resource for market research, product development and marketing solutions for developer and lenders of residential and mixed-use projects throughout the Pacific Northwest. Realogics offers turnkey sales management services through its affiliated brokerage at Realogics Sotheby's International Realty (RSIR). Recognized by the Puget Sound Business Journal amongst the fastest-growing private companies in Washington State for 2012, 2013, 2014, 2015 and 2016, RSIR is comprised of 225+ brokers that consistently rank among the top producing among their peers with branches in downtown Seattle, Bainbridge Island, Kirkland, Issaquah and Madison Park.
EDITORS NOTE: Development renderings, neighborhood aerials and additional market statistics are available upon request.