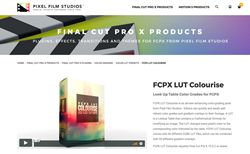 This new FCPX LUT comes with vibrant color grades and overlays.
Aliso Viejo, CA (PRWEB) October 16, 2017
FCPX LUT Colourise is an all-new enhancing color-grading pack from Pixel Film Studios. Editors can quickly and easily add vibrant color grades and gradient overlays to footage. A LUT is a Lookup Table that contains a mathematical formula for modifying an image. The LUT changes every pixel's color to the corresponding color indicated by the table. FCPX LUT Colourise comes with 60 different CUBE LUT files, which can be combined with 55 different gradient overlays.
A "LUT" changes every pixel's color to the corresponding color indicated by the table. By manipulating each pixel, LUT's can change each color range differently, giving the user more control over their look. Using the LUT combined with adding any gradient overlay, enhances the style of any shot.
FCPX LUT Colourise allows quick & easy enhancement to any media. FCPX users simply drag & drop the effect to the timeline, and choose a look-up table file. Each LUT selection is made from a drop-down menu. FCPX users have the ability to push contrast, brighten or darken a scene, and much more. Once the LUT is added, users can combine the LUT with any color gradient overlay for added style.
CUBE LUT files are extremely versatile. CUBE LUT Files are used in many different softwares. With the FCPX LUT Loader from Pixel Film Studios, editors can quickly and easily load a LUT file directly into Final Cut Pro X to color correct or grade their footage without having to use another software. Users can simply drop the loader on top of their footage and then, use the drop down menu to select or import a CUBE file.
FCPX LUT Colourise allows users to add vibrant color grades and gradients to any media. Any modifications can be made to the color of the highlights, shadows, and mid-tones, if so desired. FCPX LUT Colourise includes Gradient Overlays and film grain effects, allowing the user to add more to each look. This plugin tool allows quick color modification, enabling changes to be made on the fly.
Established in 2006, Aliso Viejo, California-based Pixel Film Studios is an innovative developer of visual effects tools for the post-production and broadcast community. Their products are integrated with popular non-linear editing and compositing products from Apple FCPX. Apple, the Apple logo, Mac OS X, and Macintosh are registered trademarks of Apple Inc. in the U.S. and/or other countries. All other trademarks and trade names are the property of their respective owners.