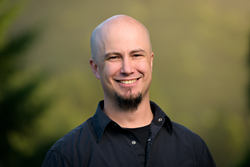 We are now fully stacked with a trifecta of science, design, and technology for our health and wellness customers.
SANTA CRUZ, Calif. (PRWEB) October 17, 2017
engagedIN – the first and only design firm focused on behavior change through the combination of neuroscience, design and technology – announced today that the company has hired a former CTO within Aetna, Brian Garcia, as Chief Technology Officer. Garcia's focus will be to translate scientific findings into software solutions for behavior change. engagedIN helps people and organizations change behavior for the better through neuroscience-based design services, technology and trainings.
engagedIN was founded in 2013 by Kyra Bobinet, MD, MPH, a health innovator and author of the book Well-Designed Life: 10 Lessons in Brain Science & Design Thinking for a Mindful, Healthy, & Purposeful Life. Dr. Bobinet has built programs and algorithms that change behavior at the million-person scale, including the first mindfulness product at Aetna. A recipient of the 2015 Innovator Award from the Harvard T. H. Chan School of Public Health, Dr. Bobinet also teaches health engagement at Stanford University School of Medicine.
"The health and wellness industry has built an install base of user-centered design and big health data, but the real holy grail is behavior change," said Dr. Bobinet. "Brian brings the health technology leadership and award-winning product development experience necessary to help us deliver the most-cutting edge solutions in behavior change. We are now fully stacked with a trifecta of science, design and technology for our health and wellness customers, furthering our plan to make them the best in the world at making people healthier."
Garcia brings 15 years of expertise to the development of engagedIN's behavior change and engagement design technologies. He most recently served as Chief Product and Technology Officer at Welltok, developer of a health optimization platform that guides and incentivizes consumers. At Welltok, Garcia led product and technology strategy to fuel the company's growth. Prior to Welltok, Garcia was CTO for Healthagen, a subsidiary of Aetna, where he spearheaded new technologies across 12 business units. One of Garcia's key accomplishments at Aetna was an award-winning platform to combine claims and clinical data to better inform clinical decisions.
"I'm excited to combine the scale of technology and my passion for user-centered design with the power of neuroscience focused on behavior change that engagedIN has innovated," said Garcia. "I believe this is the next evolution of changing lives and bringing value to the health and wellness industry."
About engagedIN
engagedIN is a neuroscience-based design firm focused on behavior change through the combination of science, design and technology. Founded in 2013, the firm has become the secret sauce of innovators within the Fortune 500. engagedIN solves the brain-behavior gapTM by combining the latest research with a compassionate design approach to increase engagement and behavior change at scale. http://www.engagedin.com