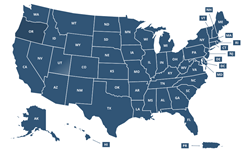 This Medicare enrollment season is expected to be the busiest one in years.
RALEIGH, N.C. (PRWEB) October 17, 2017
The Medicare Open Enrollment Period, the annual window for changes to Medicare health and prescription drug coverage, began October 15 and ends December 7th, 2017. During this time frame (also known as the Annual Election Period), currently-enrolled Medicare beneficiaries looking to switch from their current plan to a Medicare Advantage plan (Part C) or prescription drug plan (Part D) need to make changes in order for new policies to go into effect January 1, 2018.
A new online Medicare consumer information guide published by TZ Health Media helps explain the differences between different Medicare enrollment deadlines, and provides state-specific resources for Medicare beneficiaries to find additional information.
During the Open Enrollment Period, Medicare-eligible individuals can:

Switch from Original Medicare to a Medicare Advantage Plan
Leave a Medicare Advantage plan and switch to Original Medicare
Switch from one Medicare Advantage Plan to another
Join a Medicare Prescription Drug Plan
Switch from one Medicare Prescription Drug Plan to another
Drop Medicare prescription drug coverage completely.
Industry experts predict that this year's Enrollment Period will be hectic for Medicare shoppers and insurance agencies alike. "This Medicare Enrollment season is expected to be the busiest one in years," says Ryan Shevin, Director of Communications for TZ Health Media, a publisher that covers the healthcare industry. "More and more consumers are comparison shopping to get better rates."
For information on Medicare Advantage plans, visit MedicareAdvantage.com. For information on Medicare Supplement (Medigap) plans, visit MedicareSupplement.com.
About TZ Insurance Solutions LLC
TZ Insurance Solutions LLC is a licensed insurance agency with insurance agents licensed to sell health, life and/or property & casualty insurance in all 50 states. It has call centers in Tampa, FL, Fort Myers, FL and Charlotte, NC.