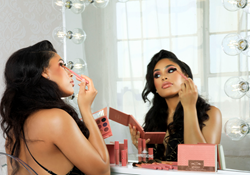 Designing my own palette has been exciting from the start, and I knew I wanted to make something special that would offer endless looks for day or night.
LOS ANGELES (PRWEB) October 18, 2017
BH Cosmetics, a beauty industry leader and creator of professional-quality makeup at affordable prices, announced today that they are partnering with beauty expert and social media sensation Raye Boyce (known to her fans as ItsMyRayeRaye) to create an all-new eyeshadow, highlighter, and contour palette, as well as a 9 piece brush set for face and eyes.
Delivering a positive message of empowerment, Boyce's makeup tutorials and vlogs attract millions of subscribers and followers on YouTube and Instagram.
"Designing my own palette has been exciting from the start, and I knew I wanted to make something special that would offer endless looks for day or night," says Boyce. "I wanted to create products that inspire everyone to enhance their unique beauty, so I helped develop a palette of eyeshadows featuring on-trend shades, along with a range of contours and highlighters that flatter multiple skin tones. And my brush set provides just the right tools to easily create these looks, so feel free to be a little daring!"
For her customized palette, Boyce selected 21 alluring face and eye colors that range from wearable glam to luminous everyday looks. Featuring 15 matte and shimmer eyeshadows, plus 3 contour hues and 3 highlighters, the beauty maven's goal was to create a versatile range of shades that would flatter everyone.
Her collection also includes a 9 piece brush set in matching rose and metallic tones, making it the perfect complement to her palette. Crafted with a special blend of synthetic fibers, this set includes everything from blush and contour brushes, to beauty tools for shading, blending, and lining eyes.
"Raye's appeal is one of a kind, blending classic high-glam with understated elegance," says Senior Vice President of Product Development Reed Cromwell IV. "From the metallic rose gold accents to the unique trifold design with magnetic closure, everything about Raye's palette and brush set not only reflects her chic style, but also captures the vibrant energy she brings to everything she does."
Both the ItsMyRayeRaye 21 Color Eyeshadow, Highlighter & Contour Palette and the ItsMyRayeRaye 9 Piece Brush Set launch in Fall 2017 and can be purchased at http://www.bhcosmetics.com/raye
About BH Cosmetics
BOLD. BRILLIANT. BEAUTIFUL. BH Cosmetics creates professional-quality, affordable makeup, makeup brushes, and accessories. Since launching in 2009, the brand has been recognized on Inc. Magazine's annual list of America's Fastest-Growing Private Companies—the Inc. 500, and in Internet Retailer's Hot 100. The company's innovative, award-winning products have been top rated in prestigious publications including InStyle, People, Glamour, Cosmopolitan and The Zoe Report, and praised extensively on social media worldwide. For more information, visit http:http://www.bhcosmetics.com.
About ItsMyRayeRaye
Starting out on Tumblr, Raye Boyce's mix of effortless chic and high-glam immediately resonated with her audience. Answering her followers' clambering requests for her beauty secrets, she began vlogging makeup tips, tricks, and hacks on YouTube. She quickly gained an enormous fanbase and became one of the first Black beauty influencers to hit over one million YouTube channel subscribers. Focusing on positive messages, she encourages viewers to give new beauty trends a try while empowering them to embrace their own personal style.