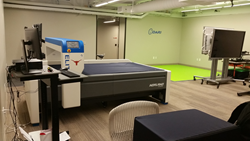 We chose the ELITE DXA because many athletes are too tall for other models requiring you to eliminate portions of the scan area. We don't have to do that or rely on mirror imaging to estimate lean and fat mass.
FORT ATKINSON, Wis. (PRWEB) October 17, 2017
Norland at Swissray, a pioneer in bone densitometry (DXA) devices is collaborating with the 20-sports University of Texas intercollegiate athletics program to provide sophisticated body composition assessments for Longhorns men and women student-athletes. Texas Athletics has installed an ELITE DXA device within its sports medicine area. The ELITE DXA provides gold standard bone health and body composition assessments to assist athletics personnel in customizing nutrition and conditioning programs for individual student-athletes. The system also can be used to minimize student-athlete injury risk.
Traditionally, bone densitometers have been used in clinical and research setting for precise and accurate assessments. Texas Athletics' sports medicine staff members are implementing ELITE DXA technology to improve student-athletes' performance. The ELITE DXA is designed specifically for elite athletes and is the largest DXA system available on the market. The extra-long and extra-wide scan area of the ELITE allows full body testing of athletes who measure within 90 inches by 54 inches. This means all football and basketball participants can be fully scanned without eliminating portions of their bodies from the equipment's scan window. No other DXA system offers the scanning flexibility of the ELITE DXA.
Amy Culp, Texas' assistant athletics director for performance nutrition, helps supervise the use of the ELITE DXA to assess body composition and bone density of student-athletes. "We are able to acquire full scans and do not have to rely upon mirror imaging to estimate lean mass and fat mass," said Culp. "This leads to more accurate assessments."
ABOUT NORLAND AT SWISSRAY
Since 1968, Norland at Swissray has been the pioneer and leader in the design and manufacture of bone densitometry technology. In both clinical and research settings, Norland densitometer systems are known to provide the highest accuracy and lowest radiation dosage in the assessment of bone density and body composition. Swissray Group is recognized for high quality products, exceptional instrumentation value and world class service. For more info, contact: Joe Joyce, Director, Research & Sports Performance Markets, 920-397-8228, joe.joyce@swissray.com
ABOUT TEXAS
With more than 50,000 students and top-ranked academic units, The University of Texas' reputation as a leader in teaching and research is complemented by its athletics tradition. The Longhorns field 20 sports teams comprised of more than 500 student-athletes who compete in NCAA Division I and the Big 12 Conference. Texas Athletics emphasizes a student-athlete-centric approach to performance, health and wellness, implementing a multidisciplinary model of service that helps student-athletes realize improved sports performance, decreased incidence of injury/illness, and optimal long-term health and wellness.