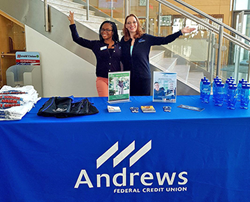 SUITLAND, Md. (PRWEB) October 18, 2017
Andrews Federal Credit Union served as a sponsor for Wiesbaden Sports, Fitness and Outdoor Recreation Center's Fitness Resolution Day. This year's theme was "Make Your Body Your Machine".
The event, held at the Tony Bass Fitness Center in Wiesbaden, Germany, was aimed at giving community members an open house where they can get a first-hand look at fitness classes, as well as learn about all facets of fitness, wellness and outdoor recreation.
"We always welcome an opportunity to support our local community," said Greg White, Wiesbaden Assistant Branch Manager. "Physical and financial fitness are equally important."
Andrews Federal, and other local sponsors, supported Wiesbaden MWR with distributing water bottles, t-shirts, fitness information and healthy snacks to participants and attendees.
About Andrews Federal Credit Union
Andrews Federal Credit Union was founded in 1948 to serve the needs of military and civilian personnel by providing a vast array of financial products and services. With over $1.5 billion in assets, Andrews Federal has grown to serve more than 120,000 members in the District of Columbia, Joint Base Andrews (MD), Springfield, Virginia (VA), Joint Base McGuire-Dix-Lakehurst (NJ), and military installations in central Germany, Belgium, and the Netherlands. In addition, the Credit Union serves as a financial partner with many select employee groups in Maryland, the District of Columbia, Virginia and New Jersey.
To learn more about Andrews Federal Credit Union and its community involvement, or to become a member, call 800.487.5500 or visit http://www.andrewsfcu.org.