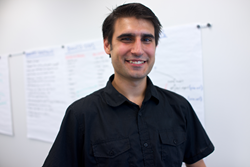 "We congratulate Demetri on his promotion and thank him for his hard work and dedication to MBLM," stated Mario Natarelli, managing partner at MBLM. "He has demonstrated exceptional leadership skills and abilities to expand our software offer and team."
NEW YORK (PRWEB) October 18, 2017
MBLM, the Brand Intimacy Agency focused on strategy, design, creative and technology, today announced the promotion of Demetri Mihalakakos to Associate Partner in Toronto.
"We congratulate Demetri on his promotion and thank him for his hard work and dedication to MBLM," stated Mario Natarelli, managing partner at MBLM. "He has demonstrated exceptional leadership skills and abilities to expand our software offer and team."
Mihalakakos is MBLM's software architect, leading the agency's digital tool development efforts and team in Toronto. He has been with MBLM for four years and has been instrumental in the creation of its proprietary tools like BrandOS and numerous customer website solutions for B2B and B2C clients.
As an MBLM partners, Mihalakakos will continue to build on his successes with expanding the agency's software platforms, client solutions and deepening the skills and capabilities of the team and network.
About MBLM: MBLM is the Brand Intimacy Agency, dedicated to creating greater intimacy between people, brands and technology. With offices in nine countries, our multidisciplinary teams help clients deliver stronger marketing outcomes and returns for the long term. To learn more about how we can help you create and sustain ultimate brand relationships, visit mblm.com.