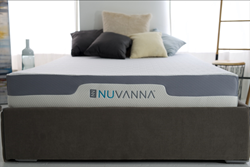 We are thrilled to be positioned among the most promising of startups by SeedInvest, one of the most highly-regarded equity crowdfunding platforms.
Philadelphia, PA (PRWEB) October 19, 2017
Nuvanna, the online mattress retailer founded in June 2016, today announces the launch of a crowdfunding offering through SeedInvest, a leading equity crowdfunding platform that provides individual investors with access to highly vetted startup investment opportunities. As a testament to the strength and growth potential of the company, SeedInvest has only selected about ~1% of the over 15,000 startups who have applied to raise capital through its funding platform over the past five years.
In addition, on Tuesday, October 17 in San Francisco, Nuvanna will be one of 10 startups to be featured on SeedInvest during LAUNCH Scale 2017 event, where 1,400 investors will be in attendance.
"We are thrilled to be positioned among the most promising of startups by SeedInvest, one of the most highly-regarded equity crowdfunding platforms," said Nuvanna founder and CEO Alvaro Vaselli. "We believe in the true quality and unique value of Nuvanna and appreciate the opportunity to welcome investors at all levels to be part of our exciting future."
Since its website launch in January 2017, Nuvanna has shown revenue growth every quarter and achieved World Class Rating by an independent reviewer, placing the company higher than the top 4 online mattress retailers.
As Nuvanna conducts its current round of fundraising, the company is deepening its commitment to promoting the importance of a life in balance and the critical role of sleep to a healthy lifestyle by partnering with Elina Winnel, founder of The Sleep Expert. Winnel has developed a unique and highly effective program for overcoming insomnia and naturally restoring sleep, earning her significant success in her native Australia. She looks forward to bringing her expertise to the U.S. by collaborating with Nuvanna.
"In a crowded, competitive market, Nuvanna stands out as more than just a mattress company," continued Vaselli. "I can personally attest to the toll that a lack of quality of sleep can take on one's happiness and want to share resources to help others do the same. Through our blog posts and by working with leaders in the study of sleep, such as Elina, we are helping our customers achieve a better life."
All companies featured on the SeedInvest platform have successfully gone through its complete due diligence process, which includes internal business, legal, and confirmatory due diligence.
Nuvanna is offering securities under Regulation CF and Rule 506(c) of Regulation D through SI Securities, LLC ("SI Securities"). The Company has filed a Form C with the Securities and Exchange Commission in connection with its offering, a copy of which may be obtained at: [link to profile].
About Nuvanna
Nuvanna LLC is an online startup that helps consumers live a more balanced life, beginning with a supremely comfortable mattress for a good night's rest — a key ingredient of a healthy lifestyle. Joining the rapidly growing online retail channel for sleep products, Nuvanna's premium offerings contain the latest innovations in sleep technology for exceptional comfort, quality, performance and durability. Founded in June 2016, Nuvanna draws its inspiration from founder and CEO Alvaro Vaselli, a business leader and innovator in the material science and sleep products industry for over 20 years. For more information, visit http://www.nuvanna.com.
# # #