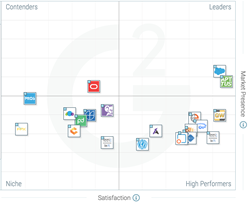 CHICAGO (PRWEB) October 17, 2017
G2 Crowd, the world's leading business software review platform, today released the Fall 2017 CPQ Software Grid® report to help businesses make the best CPQ technology buying decision. Salesforce CPQ (formerly SteelBrick) and Apttus CPQ were named Leaders in the report, receiving a strong customer satisfaction score with a large market presence.
QuoteWerks, EndeavorCPQ, Configure One, Eos CPQ, KBMax 3D CPQ, Experlogix, Apparound, Atlatl QuoteBooks, and BlueprintCPQ were named High Performers in the report, earning strong customer satisfaction marks with smaller market presence scores. Apttus CPQ earned the highest overall satisfaction score and Salesforce CPQ (formerly SteelBrick) earned the highest overall market presence score.
The Grid® leverages customer satisfaction data reported by authenticated users along with vendor market presence determined from social and public data. Based on a combination of these scores, each software solution is categorized as a Leader, High Performer, Contender or Niche.
Key Findings:

Need for coding skills — According to users, any limitations in the user interface design of CPQ systems can be overcome with coding knowledge. However, that becomes an issue if the user's company does not house a design or development team. While some reviews pointed out that the user doesn't necessarily need to master coding skills to ease the use of the software, those same reviews said that they leaned heavily on customer support to succeed.
Speed — Many of the reviews mentioned slow loading times when utilizing CPQ solutions. Some of the users admitted that the lag is due to an older version of the software; however, users also experienced a slow system when they moved data from one environment to another. Additionally, a few users were concerned that they saw a correlation between degradation in performance and the addition of products that have complicated pricing structures to the users' systems. Users said that a slow CPQ system slowed down the deployment process and rendered the tool less agile than desired.
About the CPQ Software Grid® report:
The report is based on more than 724 reviews written by business professionals.
Of the 50 products listed in G2 Crowd's CPQ category, the ranked products each received ten or more reviews to qualify for inclusion on the Grid®.
About G2 Crowd, Inc.
G2 Crowd, the world's leading business solution review platform, leverages more than 170,000 user reviews to drive better purchasing decisions. Business professionals, buyers, investors, and analysts use the site to compare and select the best software and services based on peer reviews and synthesized social data. Every month, nearly one million people visit G2 Crowd's site to gain unique insights. Co-founded by the founder and former executives of SaaS leaders like BigMachines (acquired by Oracle) and SteelBrick (acquired by Salesforce) and backed by more than $45 million in capital, G2 Crowd aims to bring authenticity and transparency to the business marketplace. For more information, go to G2Crowd.com.