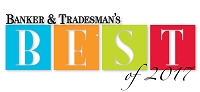 "its nice to know, our hard work and determination is being noticed within our industry"
Danvers, MA (PRWEB) October 19, 2017
New Fed Mortgage Corp., a multi-state residential Massachusetts based lender is proud to share their recognition of nominated best Mortgage Company in Massachusetts by the readers of Banker & Tradesman. Bankers & Tradesman recently conducted an online survey in mid-July of its readers to cast their votes for the best providers of services and goods in the banking and real estate professions. The poll measured the loyalty and satisfaction readers have and was an opportunity for thousands to cast their votes for those companies they believe are the best.
About Banker & Tradesman and the Warren Group
Banker and Tradesman is a weekly newspaper featuring financial services and real estate publication of The Warren Group, based in Boston, has been featuring information to all of New England since 1872. The Warren Group collects and compiles data on real estate sales and ownership. The company offers a range of real estate products, information services in print as well as online publications including the Commercial Record. The company also produces and organizes trade shows and events for a variety of industries including bankers, mortgage brokers, credit unions and lawyers.
About NewFed Mortgage Corp.
NewFed Mortgage has specialized in residential retail mortgage lending since 2001 and is licensed in seven states. New Fed offers Conventional, Jumbo, FHA, VA, USDA, Portfolio lending, and State Housing programs. Products range from 1st time home buyer programs with little or "0" down, "pick your term" traditional fixed rate products, ARM programs, rehab loans, and 203K renovation loans.
New Fed Mortgage President, Brian D'Amico, commented, "I am very proud of being president of New Fed and it's nice to know that our hard work and determination is being noticed within our industry." Charlie Erbafina, VP of Secondary comments "It takes maximum effort by everyone I work with at New Fed in order to receive the Best of 2017" and John Wight, VP of Lending also commented "Voted the Best Lender is great recognition for our team and a proud achievement for all of us".
The advantage of being a locally based regional lender unlike most big banks, New Fed's focus is solely just on mortgage lending and maintains a family style atmosphere. NewFed takes an all-in team approach right from the very beginning of the process with personalized, open communication through loan processing to loan closing.
For more information contact:
New Fed Mortgage Corp.
877-639-3331 or visit http://newfed.com
NewFed™ Mortgage Corp. was founded in 2001 as a residential mortgage lender. NMLS#1881 MA License No. MC1881, CT License ML-1881, NH License No. 9474-MB, RI License No. 20041817LL, NJ Residential Mortgage Lender License, FL License No. MLD652, Maine Lender License#SLM8185.NewFED™ Mortgage is an Equal Housing Lender. Member of the MA Mortgage Bankers Association and Better Business Bureau of Eastern MA.